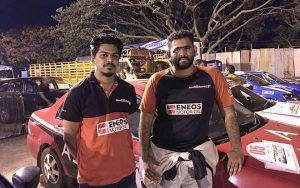 The duo tops overall category in a stock car
For someone who has never won a rally on the national circuit in the last three years, Younus Ilyas took a bit of a risk at the Popular Rally here on Sunday.
The 22-year-old from Kollam took a new navigator Ajas Rahim for the Kerala event, and it paid rich dividends.
The duo won the overall honours in the Popular Rally, prevailing over seasoned stars with a lot to spare.
"Rahim is a close friend and he is from Kollam too. It's his first event but we did not have any problems," said Younus, a businessman, at the Marine Drive on Sunday night as the results trickled in.
"This is my first rally title, and we won the overall title in a Group N (stock) car beating many cars in the open category."
Younus, who has had second and third place finishes in the Indian National Rally Championship events earlier, finished with a 41-second lead over National star Arjun Rao Aroor and Kumar Ramaswamy.
Younus, who was driving a Mitsubishi Cedia, clocked 1 hour and 13 seconds for the 84km of competitive stages while Rao Aroor was timed at 1:00.54s.
Favourites P.G. Abhilash and Shrikanth Gowda, the Indian Rally champions who are currently fifth in the Asia Pacific Rally Championship, were forced to withdraw midway through the opening special stage after their engine blew up.