Exterior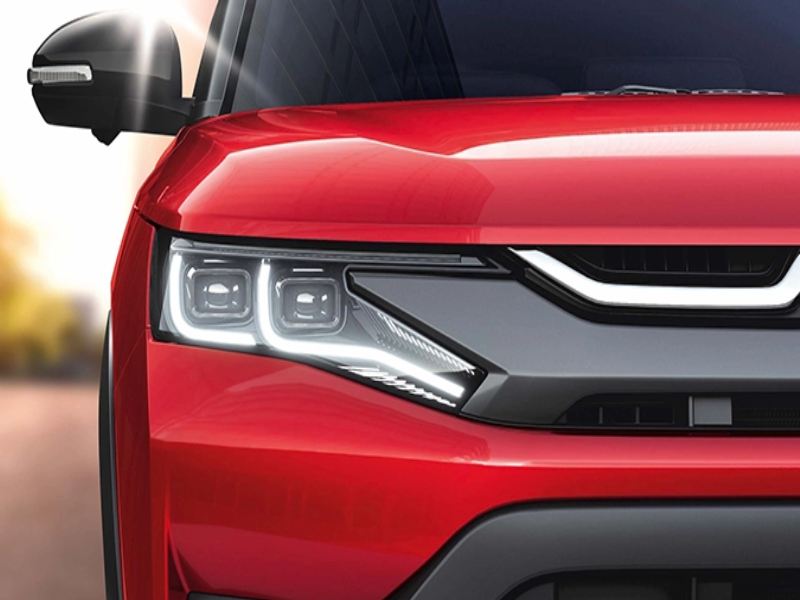 Dual LED Projector Headlamps with LED DRLs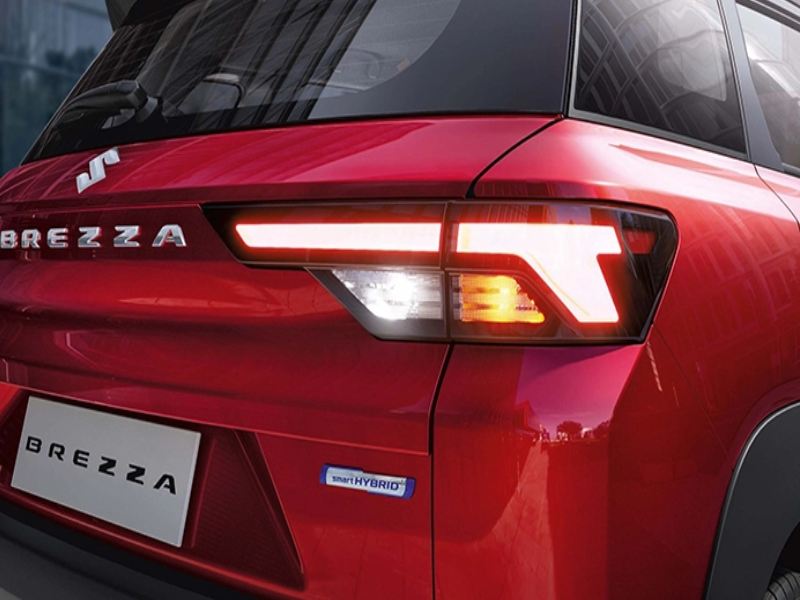 LED Tail Lamp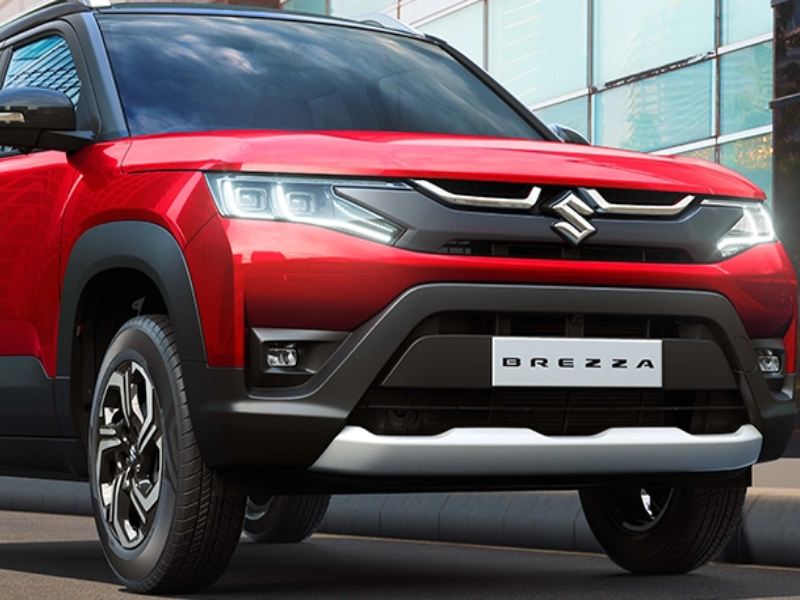 Chrome Accentuated Front Grille
Shark Fin Antenna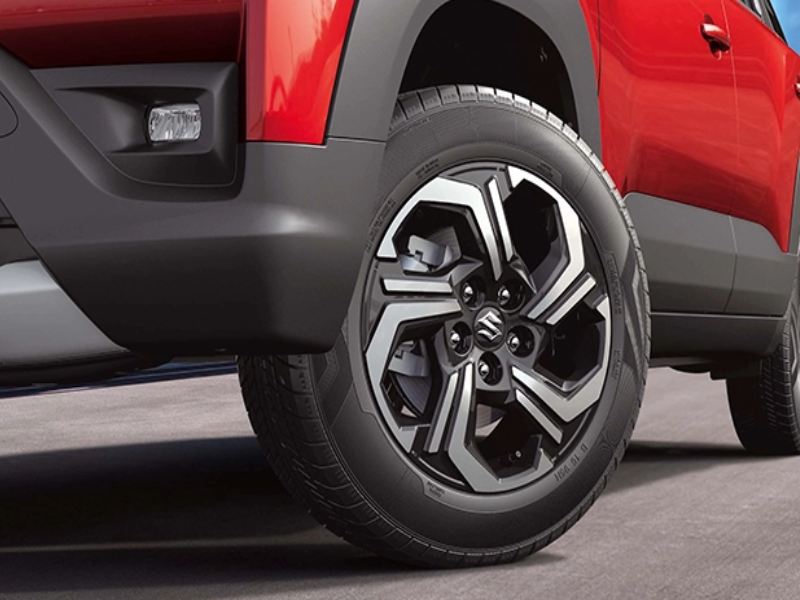 Bold Geometric Alloy Wheels
Interior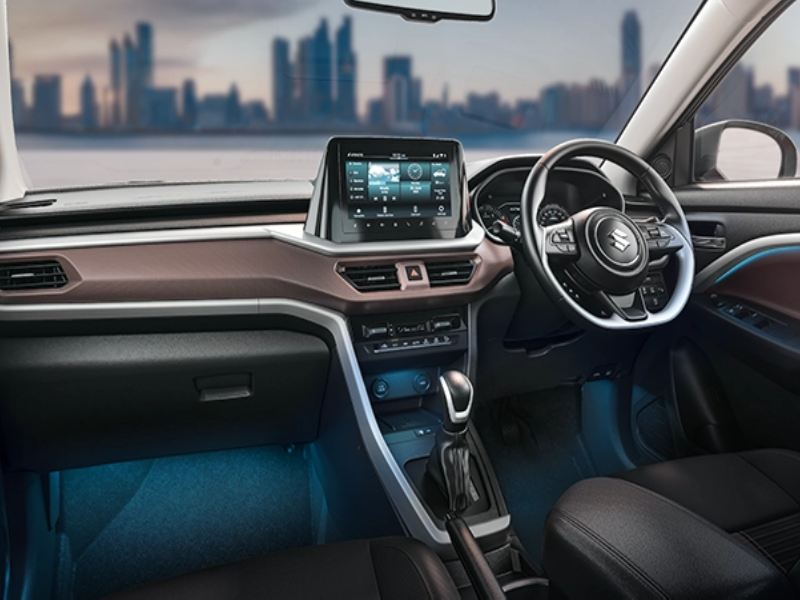 Interior Ambient Lighting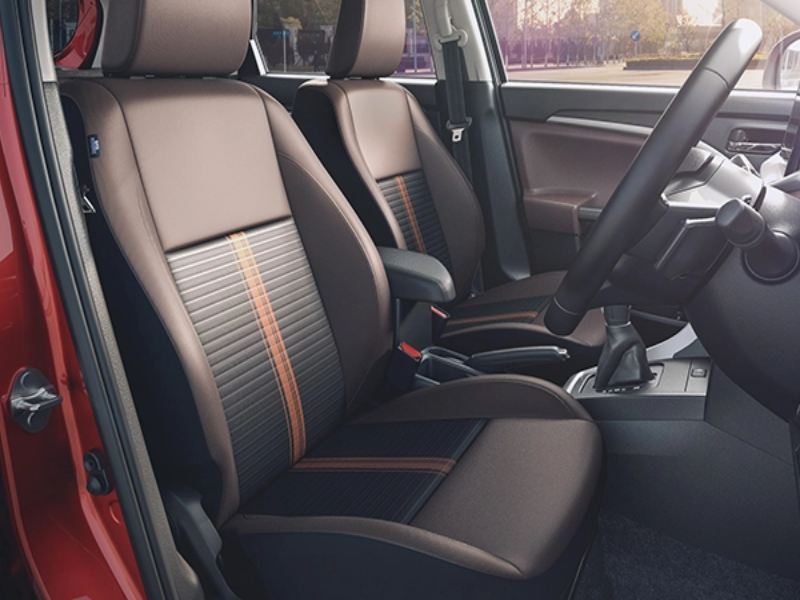 Black and Brown Interiors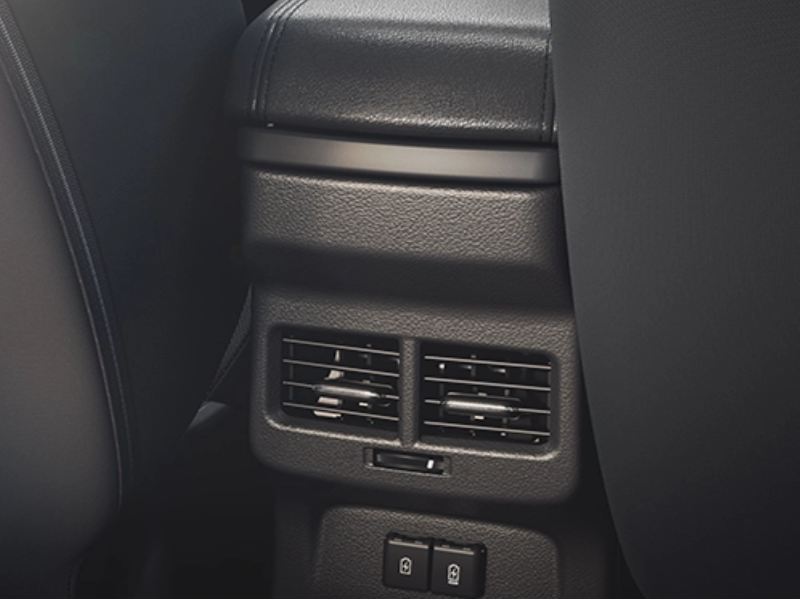 Rear AC Vents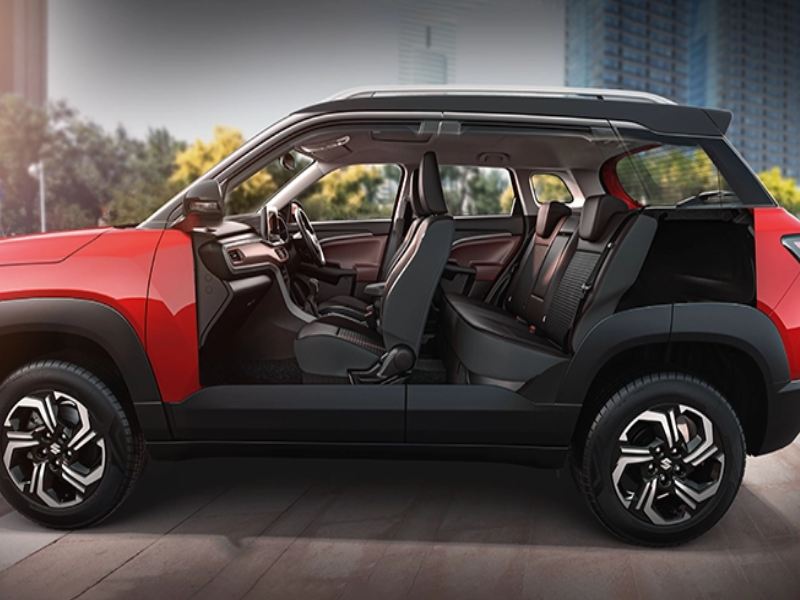 Wide Cabin Space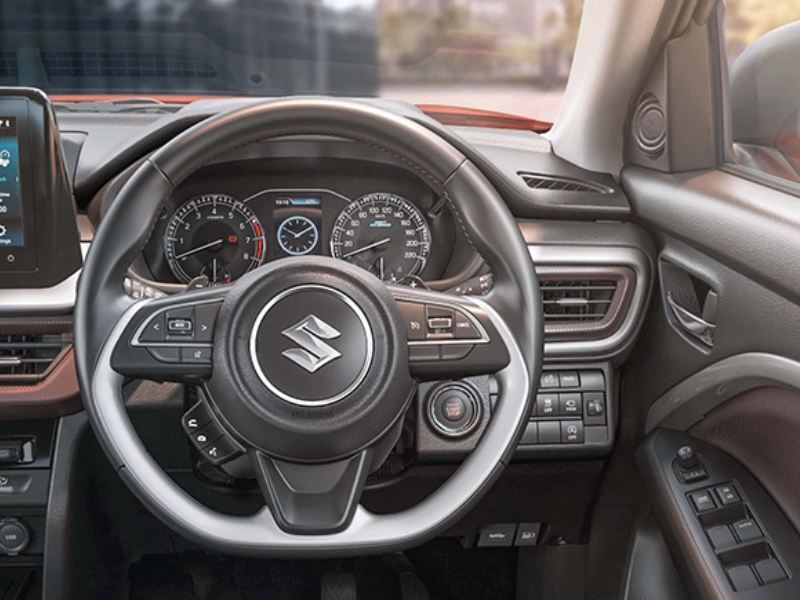 Flat Bottom Steering Wheel
Technology
The All New Hot and Techy Brezza goes above and beyond your expectations when it comes to the latest technology. Featuring an Electric Sunroof that's set to take your city adventures up a notch; a Head Up Display that never lets you take your eyes off the road; and a 360 View Camera that enables you to park easily. It's safe to say it's not hard to see why we call it the All New Hot and Techy Brezza. Setting new bars for innovation, the City-Bred SUV goes all out with a 9-Inch SmartPlay Pro+ with "Surround Sense" Powered by ARKAMYS, a Wireless Charging Dock and a New Gen Suzuki Connect with Smartwatch and Alexa Skill* Connectivity.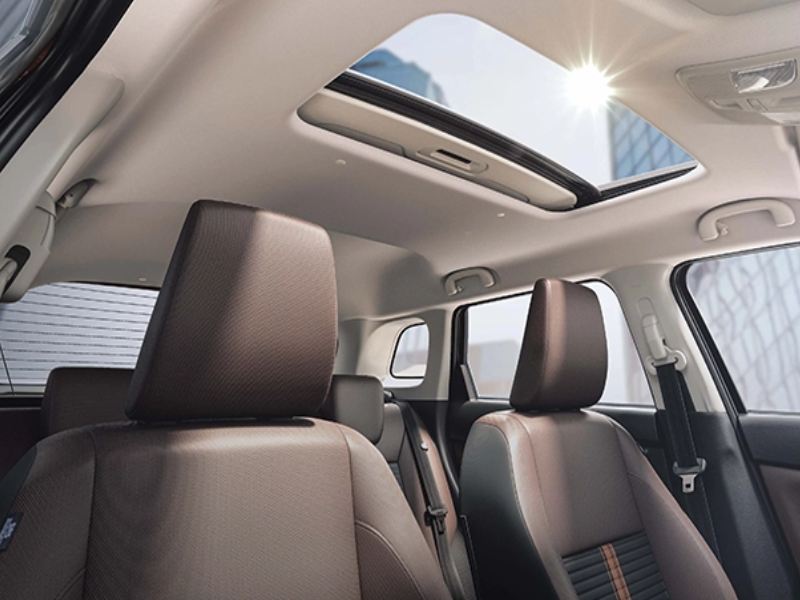 Electric Sunroof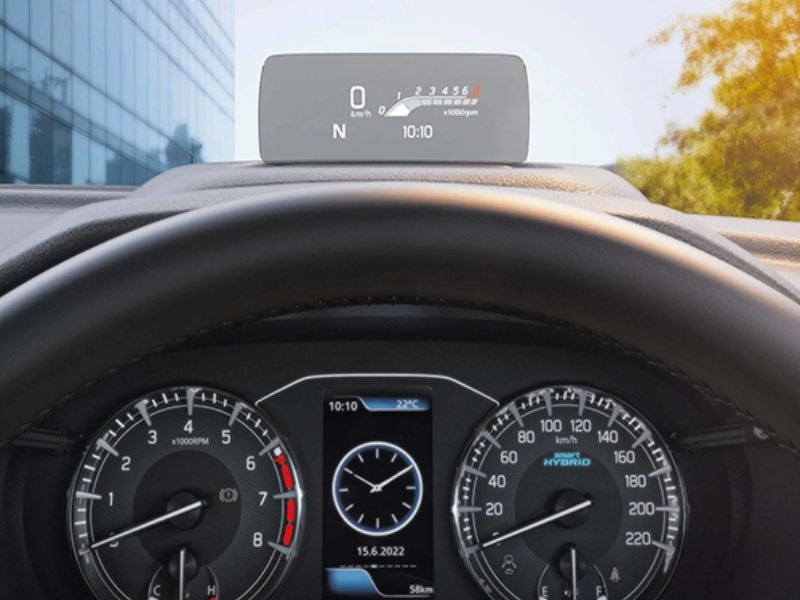 Head Up Display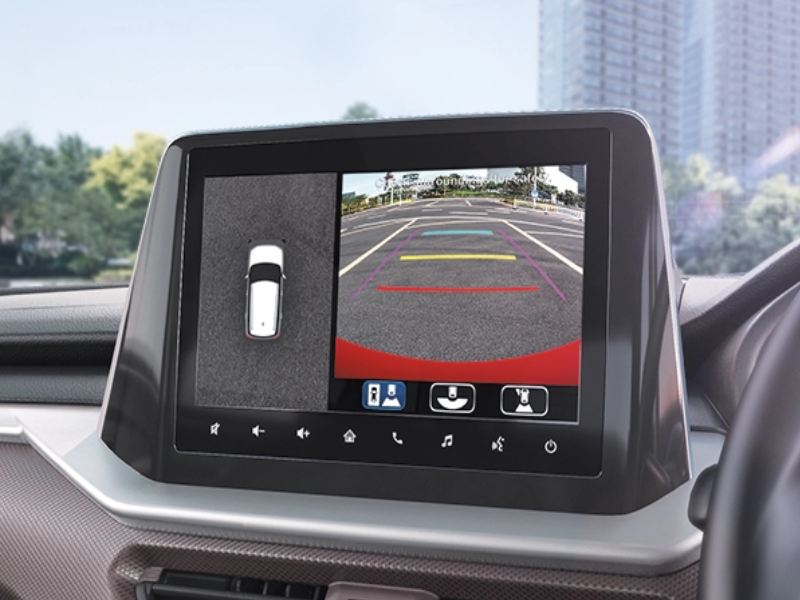 360 View Camera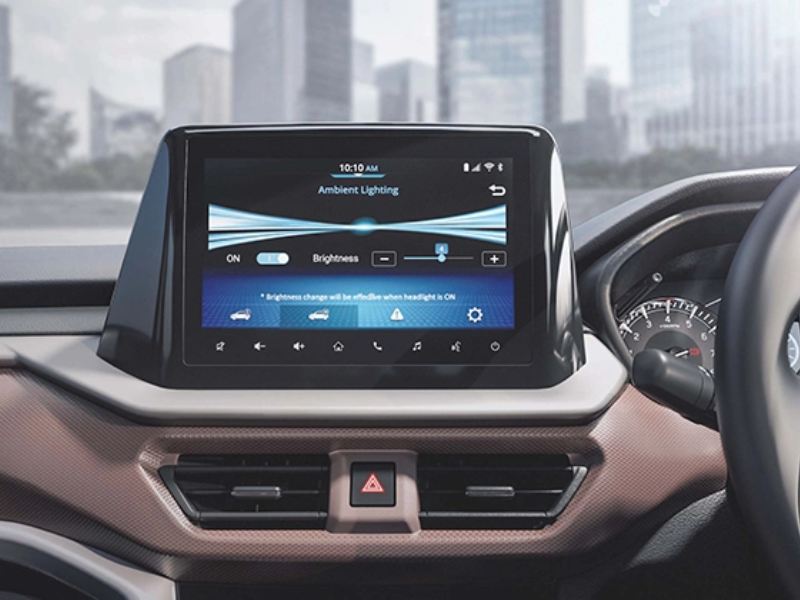 SmartPlay Pro+ with Surrounded Sense powered by ARKAMYS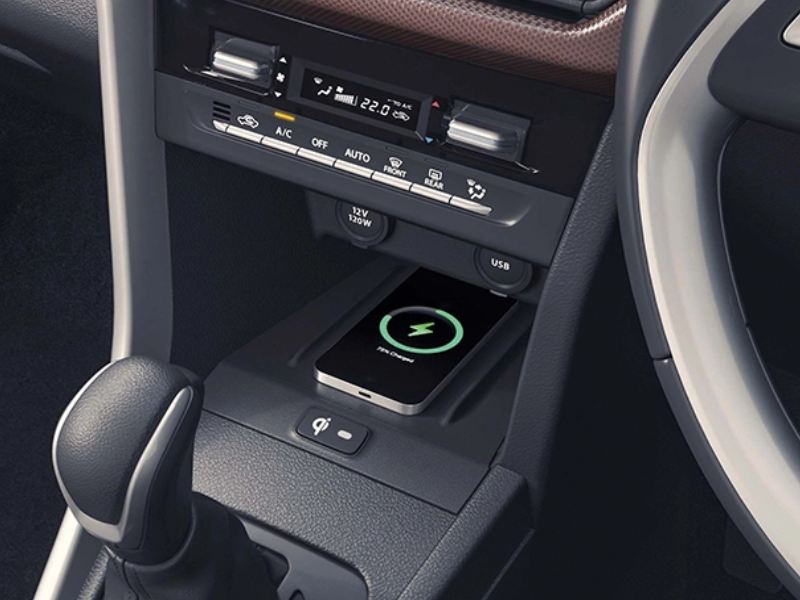 Wireless Charging Dock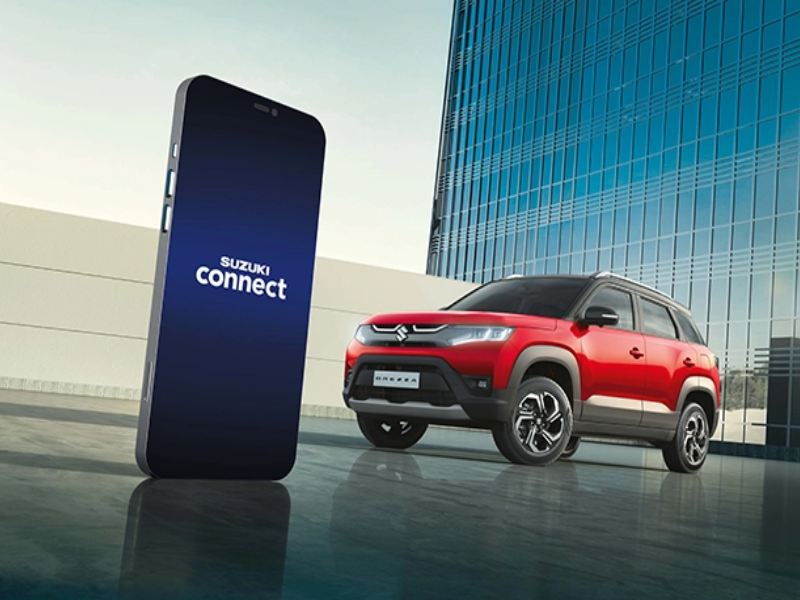 Next Gen Suzuki Connect
Safety
The All New Hot and Techy Brezza is loaded with safety features that enable you to experience the best of city adventures. Equipped with 6 Airbags, ESP with Hill Hold Assist, an improved TECT Platform and 20+ Safety Features, the City-Bred SUV ensures that your well-being is never left compromised.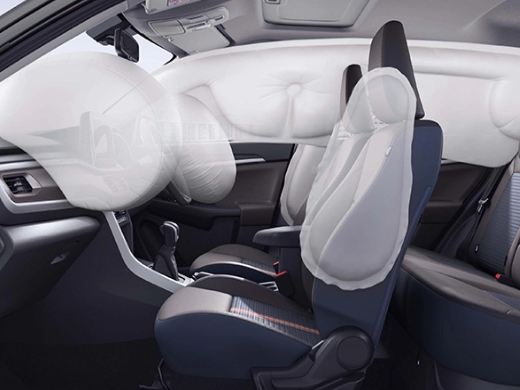 6 Airbags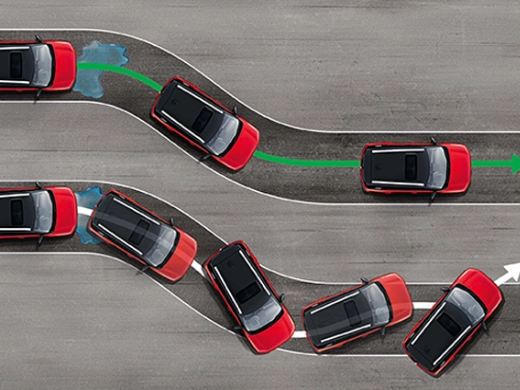 ESP (Electronic Stability Program)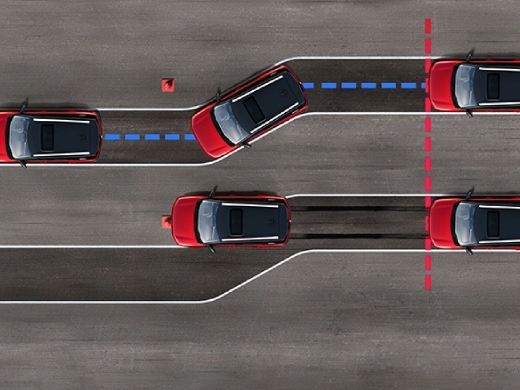 ABS with EBD and Brake Assist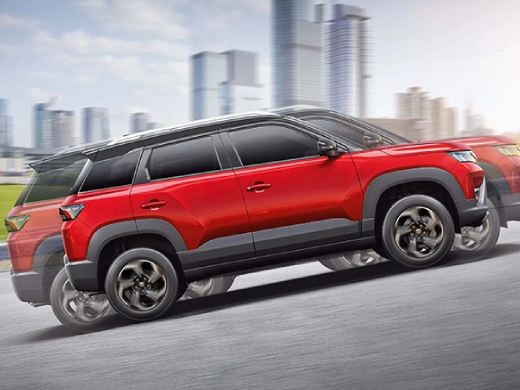 Hill Hold Assist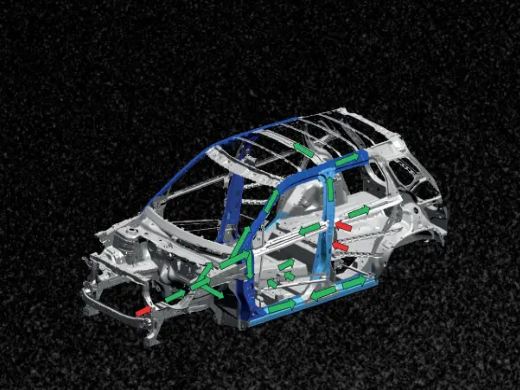 Suzuki TECT-Body
Comfort
Sit back and experience comfort that's unparalleled. The All-New Hot and Techy Brezza is the city adventurer's sanctuary, designed for the ones who are always on the move. Packed with 6-Speed Automatic Transmission with Paddle Shifters, Telescopic Steering, Fast Charging USB, Cooled Glove Box, a Flat Bottom Steering Wheel and New Instrument Cluster with 4.2 in Coloured MID, the City-Bred SUV ensures you're always ready to take over the streets.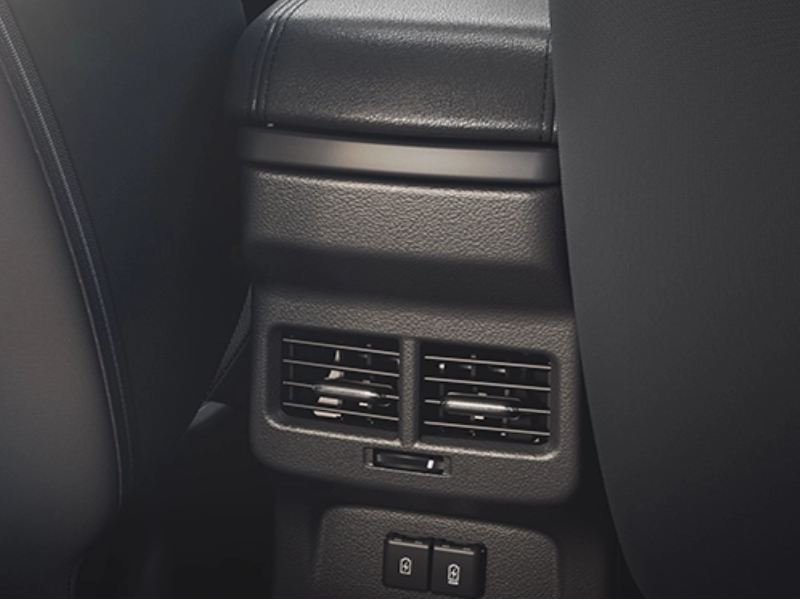 Rear AC Vents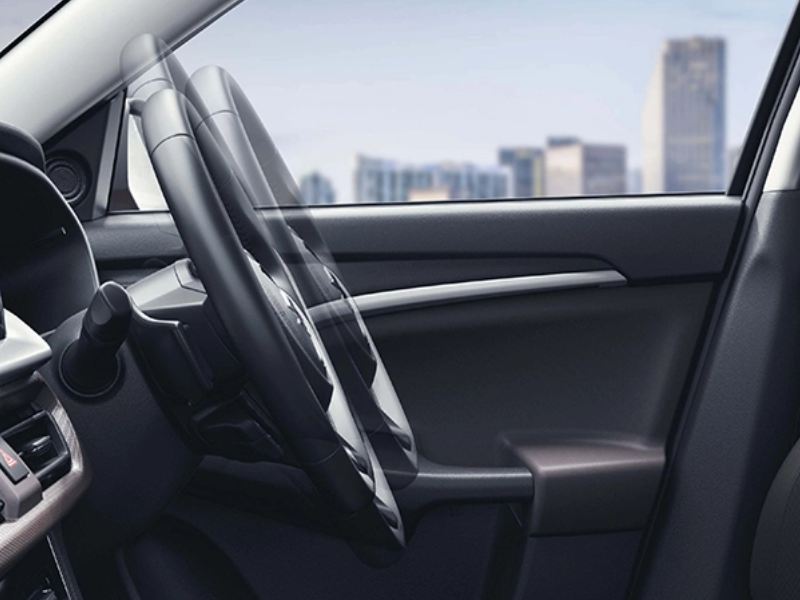 Telescopic Steering
Paddle Shifters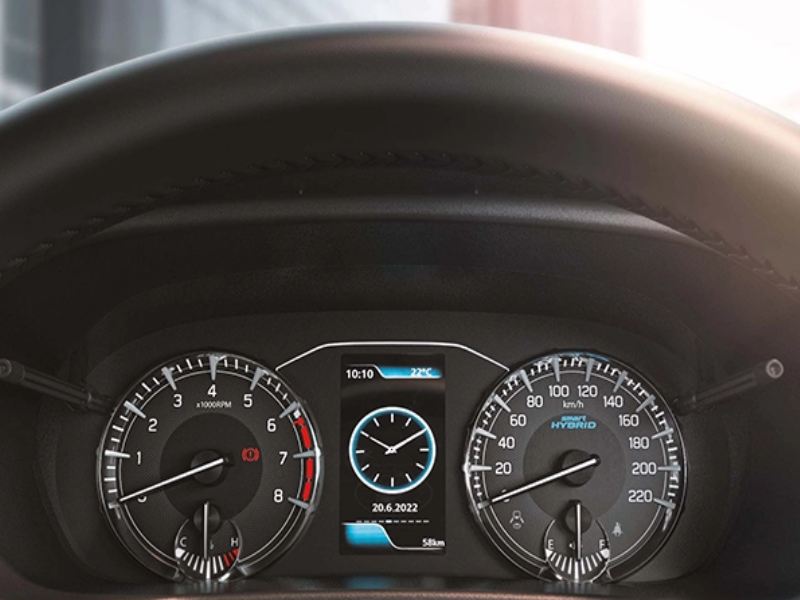 New Instrument Cluster with 4.2in Colored MID (Multi Information Display)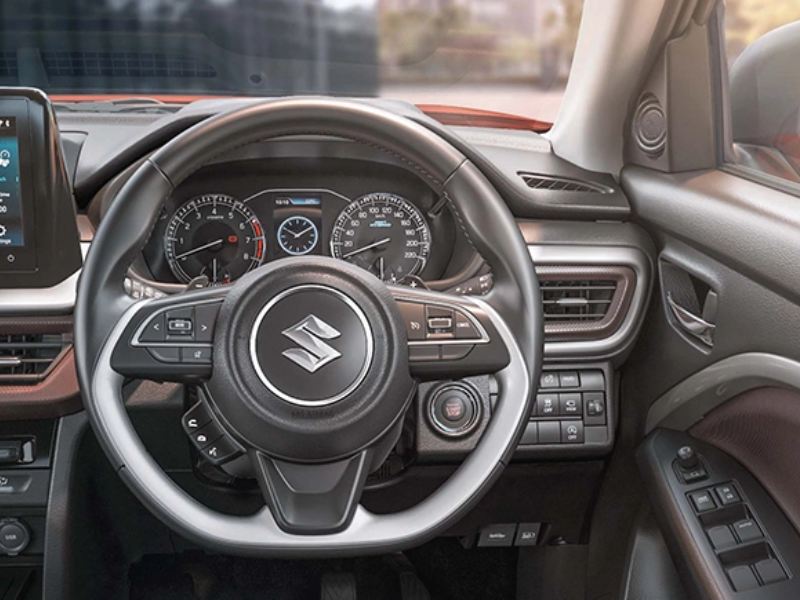 Flat Bottom Steering wheel
Specifications
| | | | | | | | |
| --- | --- | --- | --- | --- | --- | --- | --- |
| | LXI | VXI | ZXI | ZXI + | VXI AT | ZXI AT | ZXI + AT |
| Seating Type | -- | -- | -- | -- | -- | | -- |
| | | | | | | | |
| --- | --- | --- | --- | --- | --- | --- | --- |
| | LXI | VXI | ZXI | ZXI + | VXI AT | ZXI AT | ZXI + AT |
| Front | Ventilated Disc | Ventilated Disc | Ventilated Disc | Ventilated Disc | Ventilated Disc | Ventilated Disc | Ventilated Disc |
| Rear | Drum | Drum | Drum | Drum | Drum | Drum | Drum |
| | | | | | | | |
| --- | --- | --- | --- | --- | --- | --- | --- |
| | LXI | VXI | ZXI | ZXI + | VXI AT | ZXI AT | ZXI + AT |
| Fuel tank Capacity | 48 L | 48 L | 48 L | 48 L | 48 L | 48 L | 48 L |
| Seating Capacity | 5 | 5 | 5 | 5 | 5 | 5 | 5 |
| | | | | | | | |
| --- | --- | --- | --- | --- | --- | --- | --- |
| | LXI | VXI | ZXI | ZXI + | VXI AT | ZXI AT | ZXI + AT |
| Boot Space | 328 L | 328 L | 328 L | 328 L | 328 L | 328 L | 328 L |
| Height | | | | | | | |
| Length | 3995 mm | 3995 mm | 3995 mm | 3995 mm | 3995 mm | 3995 mm | 3995 mm |
| Track, Front | -- | -- | -- | -- | -- | -- | -- |
| Track, Rear | -- | -- | -- | -- | -- | -- | -- |
| Turning Radius | -- | -- | -- | -- | -- | -- | -- |
| Wheelbase | 2500 mm | 2500 mm | 2500 mm | 2500 mm | 2500 mm | 2500 mm | 2500 mm |
| Width | 1790 mm | 1790 mm | 1790 mm | 1790 mm | 1790 mm | 1790 mm | 1790 mm |
| | | | | | | | |
| --- | --- | --- | --- | --- | --- | --- | --- |
| | LXI | VXI | ZXI | ZXI + | VXI AT | ZXI AT | ZXI + AT |
| Capacity | 1462 CC | 1462 cc | 1462 cc | 1462 cc | 1462 cc | 1462 cc | 1462 cc |
| Emission Type | BS VI | BS VI | BS VI | BS VI | BS VI | BS VI | BS VI |
| Engine Type | K15C Smart Hybrid | K15C Smart Hybrid | K15C Smart Hybrid | K15C Smart Hybrid | K15C Smart Hybrid | K15C Smart Hybrid | K15C Smart Hybrid |
| Fuel Type | Petrol | Petrol | Petrol | Petrol | Petrol | Petrol | Petrol |
| Maximum Power | 75.8 kW @ 6000 rpm | 75.8 kW @ 6000 rpm | 75.8 kW @ 6000 rpm | 75.8 kW @ 6000 rpm | 75.8 kW @ 6000 rpm | 75.8 kW @ 6000 rpm | 75.8 kW @ 6000 rpm |
| Maximum Torque | 138 Nm @400rpm | 138 Nm @ 4400 rpm | 138 Nm @400rpm | 138 Nm @400rpm | 138 Nm @400rpm | 138 Nm @400rpm | 138 Nm @400rpm |
| No. of valves | -- | -- | -- | -- | -- | -- | -- |
| Number of cylinders | -- | -- | -- | -- | -- | -- | -- |
| Transmission Type | 5 MT | 5 MT | 5 MT | 5 MT | 6 AT | 6 AT | 6 AT |
| | | | | | | | |
| --- | --- | --- | --- | --- | --- | --- | --- |
| | LXI | VXI | ZXI | ZXI + | VXI AT | ZXI AT | ZXI + AT |
| Fuel Efficiency | 17.03 km/l* | 17.03 km/l* | 17.03 km/l* | 17.03 km/l* | 18.76 km/l* | 18.76 km/l* | 18.76 km/l* |
| Fuel Type | Petrol | Petrol | Petrol | Petrol | Petrol | Petrol | Petrol |
| Tank Capacity | 48 L | 48 L | 48 L | 48 L | 48 L | 48 L | 48 L |
| | | | | | | | |
| --- | --- | --- | --- | --- | --- | --- | --- |
| | LXI | VXI | ZXI | ZXI + | VXI AT | ZXI AT | ZXI + AT |
| Dual Horn | | | | | | | |
| Power Steering Type | | | | | | | |
| Steering Type | Tilt Steering | Tilt Steering | Tilt Steering | Tilt Steering | Tilt Steering | Tilt Steering | Tilt Steering |
| Turning Radius | 5.2 m | 5.2 m | 5.2 m | 5.2 m | 5.2 m | 5.2 m | 5.2 m |
| | | | | | | | |
| --- | --- | --- | --- | --- | --- | --- | --- |
| | LXI | VXI | ZXI | ZXI + | VXI AT | ZXI AT | ZXI + AT |
| Front | Mac Pherson Strut & Coil Spring | Mac Pherson Strut & Coil Spring | Mac Pherson Strut & Coil Spring | Mac Pherson Strut & Coil Spring | Mac Pherson Strut & Coil Spring | Mac Pherson Strut & Coil Spring | Mac Pherson Strut & Coil Spring |
| Rear | Torsion Beam & Coil Spring | Torsion Beam & Coil Spring | Torsion Beam & Coil Spring | Torsion Beam & Coil Spring | Torsion Beam & Coil Spring | Torsion Beam & Coil Spring | Torsion Beam & Coil Spring |
| | | | | | | | |
| --- | --- | --- | --- | --- | --- | --- | --- |
| | LXI | VXI | ZXI | ZXI + | VXI AT | ZXI AT | ZXI + AT |
| Tyre Size | 215/60 R16## | 215/60 R16## | 215/60 R16## | 215/60 R16## | 215/60 R16## | 215/60 R16## | 215/60 R16## |
| | | | | | | | |
| --- | --- | --- | --- | --- | --- | --- | --- |
| | LXI | VXI | ZXI | ZXI + | VXI AT | ZXI AT | ZXI + AT |
| Gross vehicle weight | -- | -- | -- | -- | -- | -- | -- |
| Kerb Weight | 1110-1130 kg | 1110-1130 kg | 1110-1130 kg | 1110-1130 kg | 1135 – 1150 kg | 1135 – 1150 kg | 1135 – 1150 kg |
Features
| | | | | | | | |
| --- | --- | --- | --- | --- | --- | --- | --- |
| | LXI | VXI | ZXI | ZXI + | VXI AT | ZXI AT | ZXI + AT |
| AC | | | | | | | |
| Audio Remote Control | | -- | -- | -- | -- | -- | -- |
| Central Locking | | | | | | | |
| Side Door Speaker | -- | | | | | | |
| | | | | | | | |
| --- | --- | --- | --- | --- | --- | --- | --- |
| | LXI | VXI | ZXI | ZXI + | VXI AT | ZXI AT | ZXI + AT |
| All Door Trims | | | | | | | |
| Auto AC | | | | | | | |
| Back Pocket on Front Seats | | | | | | | |
| Co-Driver Side Vanity Mirror | | | | | | | |
| Driver Side Footrest | | | | | | | |
| Driver Side FR Windows | | | | | | | |
| Dust and Pollen Filter | | | | | | | |
| Electrically Adjustable ORVM | | | | | | | |
| Electronic Power Steering | | | | | | | |
| Engine Push Start/Stop with smart key | -- | | | | | | -- |
| Front & Rear Power Windows | | | | | | | |
| Front Accessory Socket | | | | | | | |
| Front Seat Back Luggage Hook | -- | | | | | | -- |
| Gear Position Indicator | -- | -- | -- | -- | | -- | -- |
| Gear Shift Indicator | | | | -- | -- | -- | |
| Keyless Entry System | | | | | | | |
| Power Steering | | | | | | | |
| Rear Seat Flip & fold | | | | | | | |
| Rear Seat Headrest | -- | | | | | | -- |
| Smart Entry System | -- | | | | | | -- |
| Tailgate Open System | | | | | | | |
| Tilt Steering | | | | | | | |
| Upper Glove Box | -- | | | | | | -- |
| | | | | | | | |
| --- | --- | --- | --- | --- | --- | --- | --- |
| | LXI | VXI | ZXI | ZXI + | VXI AT | ZXI AT | ZXI + AT |
| Alloy Wheels (Painted) | -- | -- | | -- | -- | | -- |
| Alloy Wheels (Precision Cut) | -- | -- | -- | | -- | -- | |
| Auto Headlamps with Follow me Home & Lead Me to Vehicle | | | | | | | |
| Body Colored Bumper | | | | | | | |
| Body Coloured Door Handles | | | | | | | |
| Body Coloured ORVM | | | | | | | |
| Chrome Accentuated Front Grille | | | | | | | |
| Chrome Front Grille | -- | -- | -- | -- | -- | -- | -- |
| Chrome Garnish Backdoor | | | | | | | |
| Coloured Bumper | -- | | -- | -- | -- | -- | -- |
| Dual Purpose LED DRL | | | | | | | |
| Electric Outside Mirrors | | | | | | | |
| Floating LED Day Time Running Lamps | | | | | | | |
| Floating Roof Design | | | | | | | |
| Front Fog Lamp | -- | -- | -- | -- | -- | -- | -- |
| Full Wheel Cap/Cover | -- | | -- | -- | | -- | -- |
| LED High Mounted Stop Lamp | -- | -- | -- | -- | -- | -- | -- |
| LED Tail Lamps | | | | | | | |
| Projector Headlamps (Dual LED) | -- | -- | | | -- | | |
| Projector Headlamps (Halogen) | | | -- | -- | | -- | -- |
| Roof End Spoiler | | | | | | | |
| Roof Rail | -- | -- | -- | -- | -- | -- | -- |
| Shark Fin Antenna | | | | | | | |
| Side Door Cladding | | | | | | | |
| Side Door Molding | -- | -- | -- | -- | -- | -- | -- |
| Steel Wheels | -- | -- | -- | -- | -- | -- | -- |
| Steel Wheels with Wheel cover | -- | -- | -- | -- | -- | -- | -- |
| Wheel Arch Extension | -- | -- | -- | -- | -- | -- | -- |
LXI
VXI
ZXI
ZXI +
VXI AT
ZXI AT
ZXI + AT
7 Step Illumination Control

--

--

--

--

--

--

--

Audible Headlight on Reminder

--

--

--

--

--

--

--

Center Console with Cupholder

--

--

--

--

--

--

--

Center Louver knob

--

--

--

--

--

--

--

Center Louver/Audio Ring

--

--

--

--

--

--

--

Center Lower Box

--

--

--

--

--

--

--

Chrome Finish on AC Louver Knobs

--

--

--

--

--

--

--

Day/Night Rear View Mirror (Manual)
Door ajar warning lamp
Door Armrest with Fabric

--

Drivers Ticket Holder
Front Footwell Illumination
Glove Box Illumination
Inside Door Grab Handle (4 Doors)
Inside Door Ornament (Black)
Interior Ambient Lights
Interior Color

Mono Tone

Mono Tone

Dual TMono Toneone

Dual Tone

Mono Tone

Dual Tone

Dual Tone

IP Ornament

--

--

--

--

--

--

--

Key Off Reminder
Leather Wrapped Steering Wheel^
Low Fuel Warning Light
Meter Illumination Color

--

--

--

--

--

--

--

Multi-Information Display
Passenger Ticket Holder

--

Room Lamp
Shift Lever