Exterior
How do you turn every day into something exciting? Simple, by adding passion, enthusiasm, and a touch of surprise. That's what the Maruti Suzuki S-Presso is all about – live up the drive like never before as you accelerate through a journey of spirited living.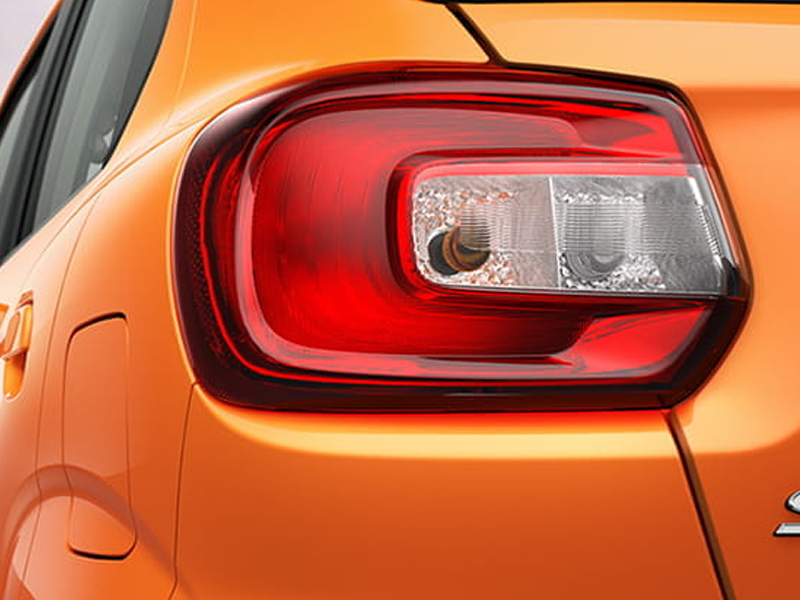 Signature C-Shaped Tail Lamps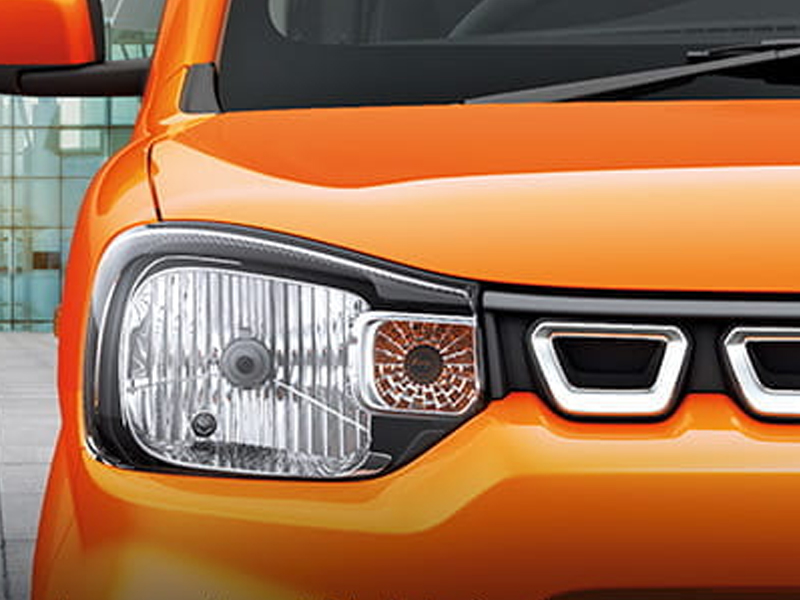 Twin Chamber Headlamps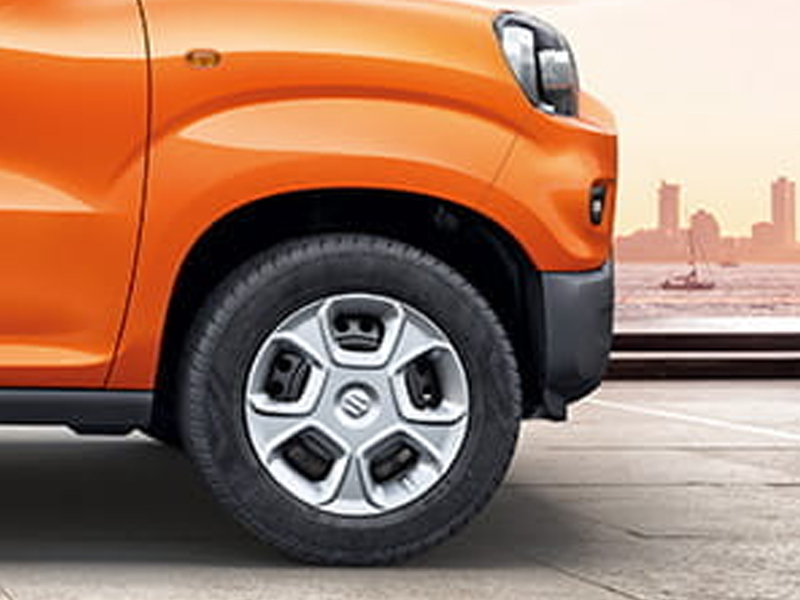 Squarish Wheel Arches with 14" Tyres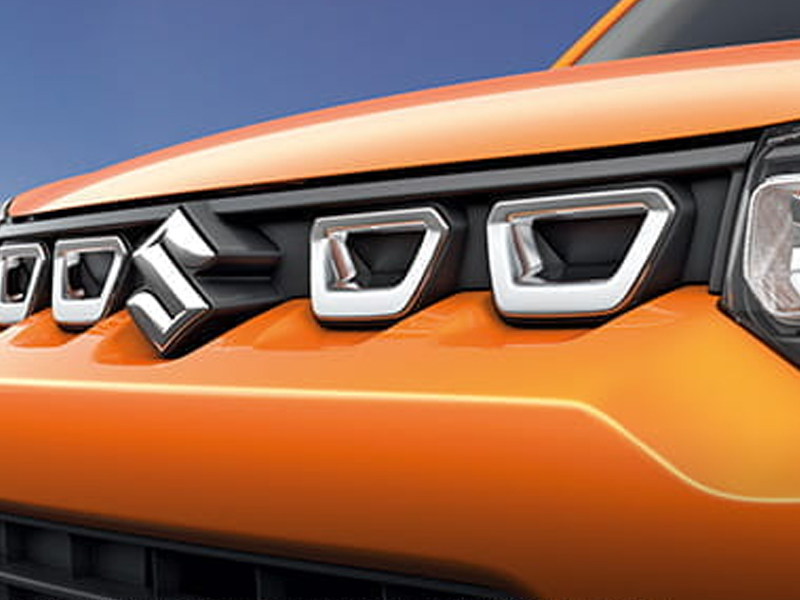 SUV-Inspired Bold Front Fascia
Interior
Slide in behind the wheel of this Mini SUV and make the world look up. With a commanding stance that lets you scope the fun around you, gear up for an exciting driving experience that makes you feel alive.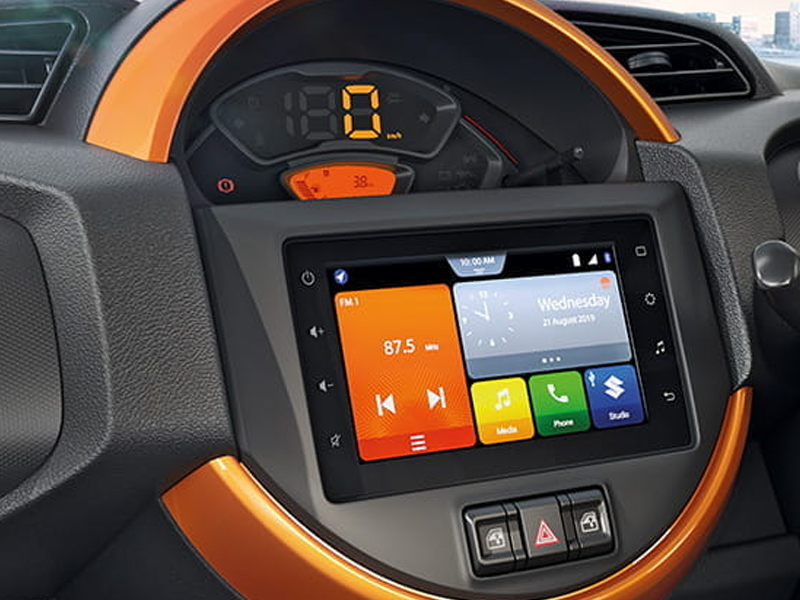 Customisable Smartplay Studio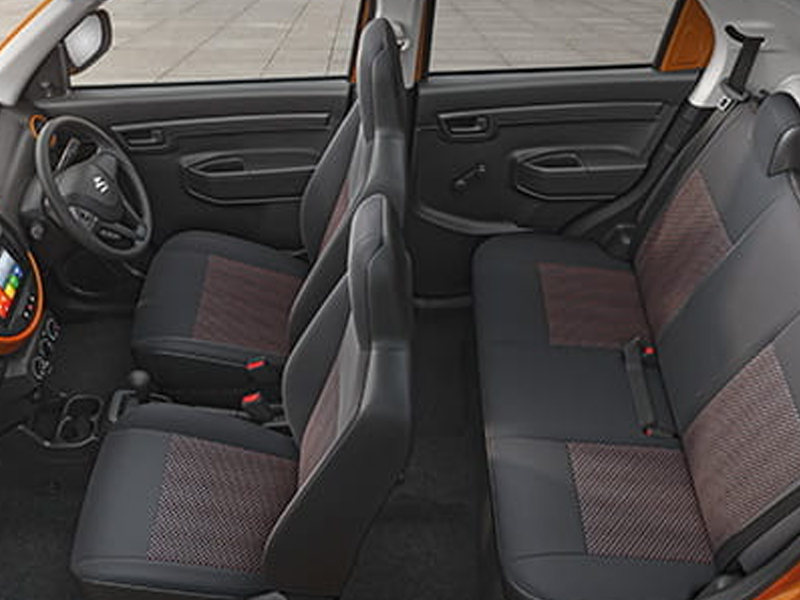 Spacious Cabin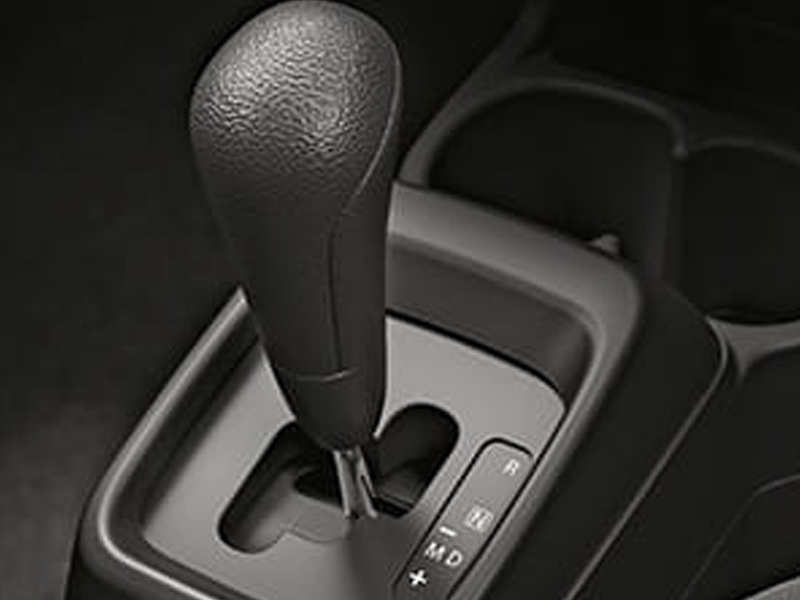 Auto-Gear Shift Technology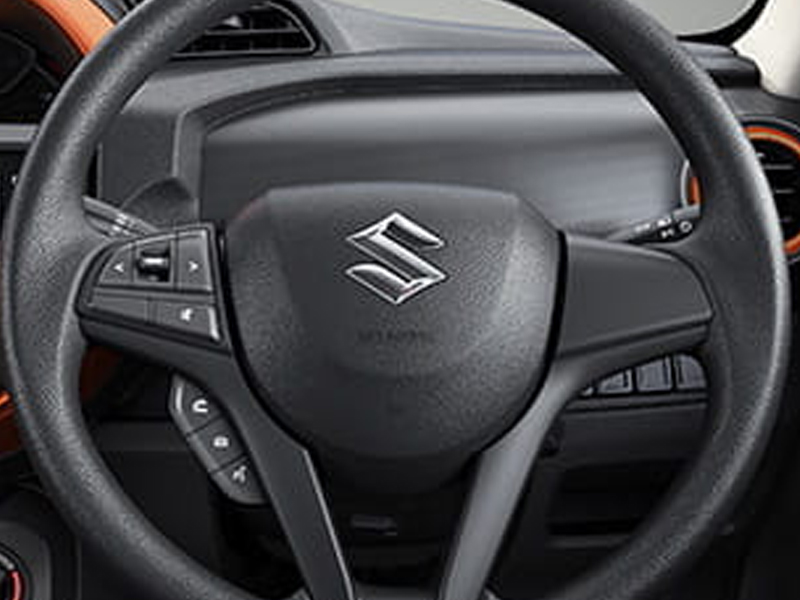 Steering-Mounted Audio and Voice Controls
Technology
The S-PRESSO's uniquely positioned instrument cluster puts you in total control of your drive. The customizable Smartplay studio ensures all your information and entertainment goes wherever you go. And the Auto-gear Shift Technology makes every drive as full of life as the last.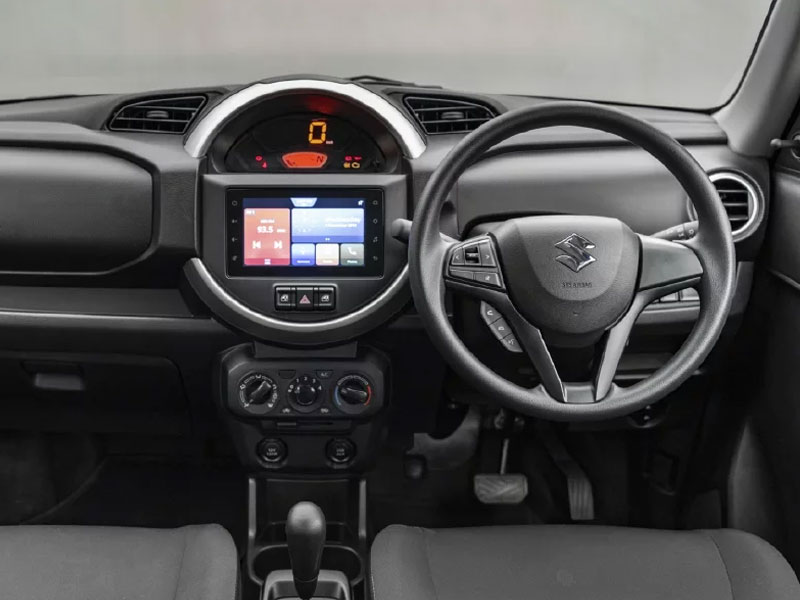 Uniquely Positioned Instrument Cluster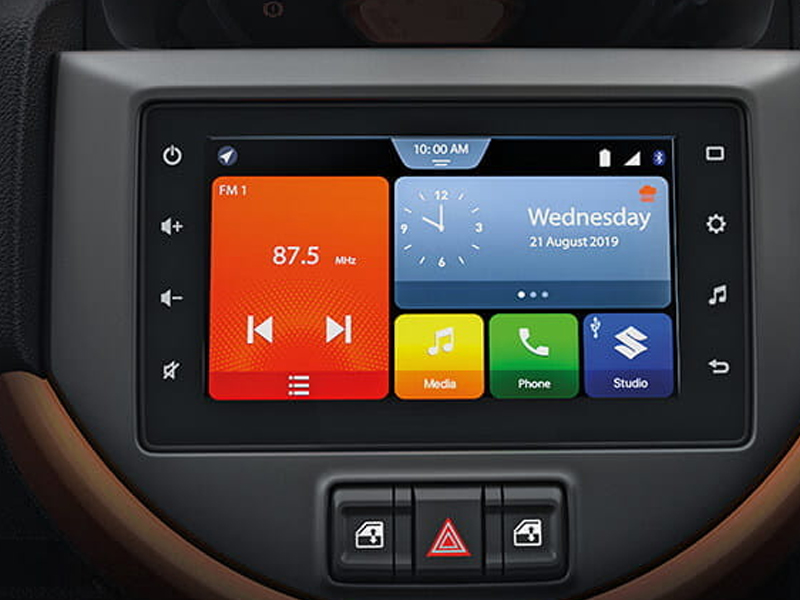 SmartPlay Studio with Audio and Voice Controls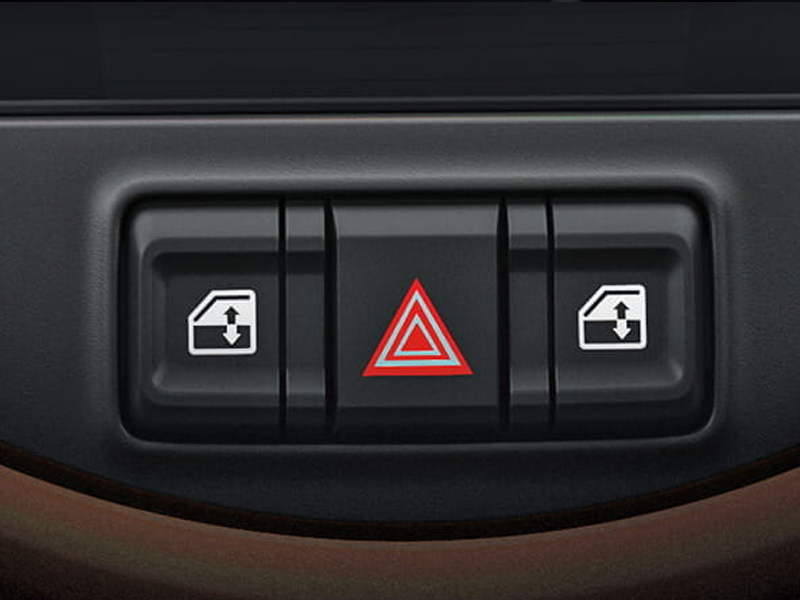 Centrally Located Power Window Switches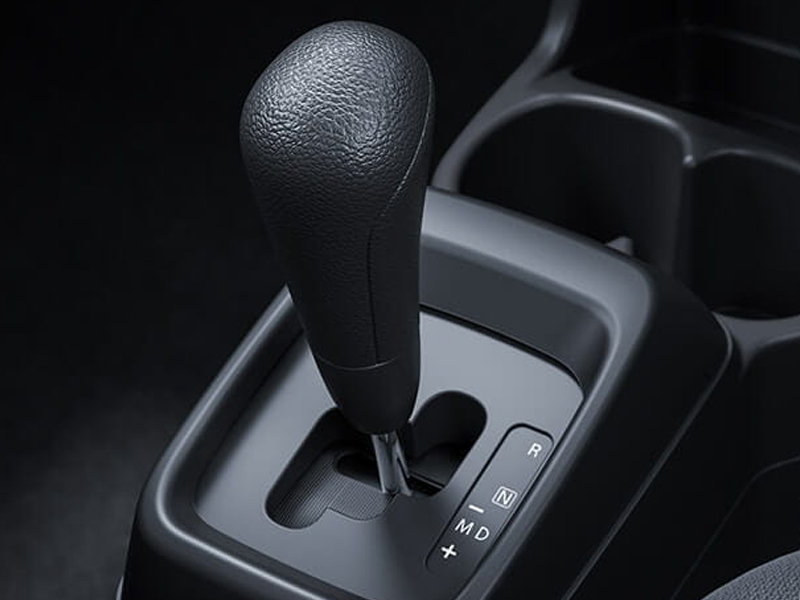 Auto Gear Shift
Engine
Powered by the peppy 1.0L K10B Engine, the S-PRESSO boasts a spirited performance that's bound to make you smile.
Safety
With more than 10 safety features the S-PRESSO will keep you secure through every twist and turn.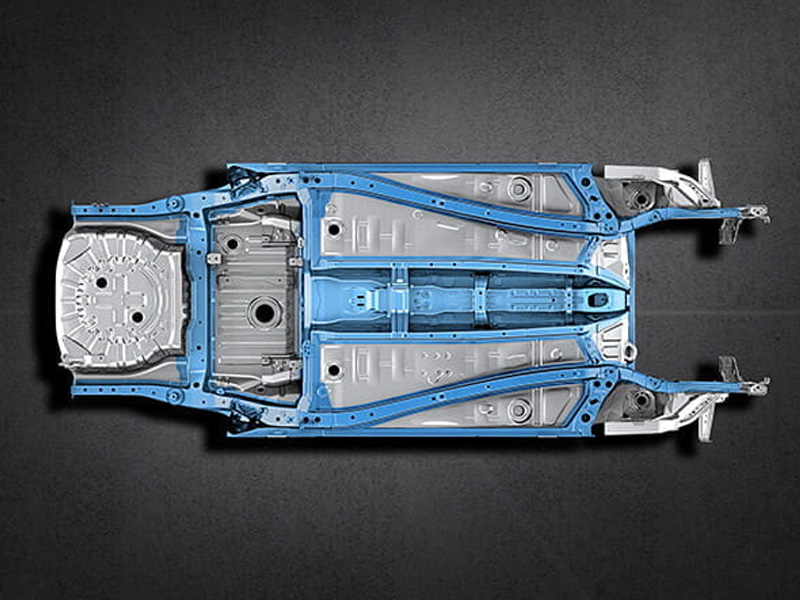 Heartect platform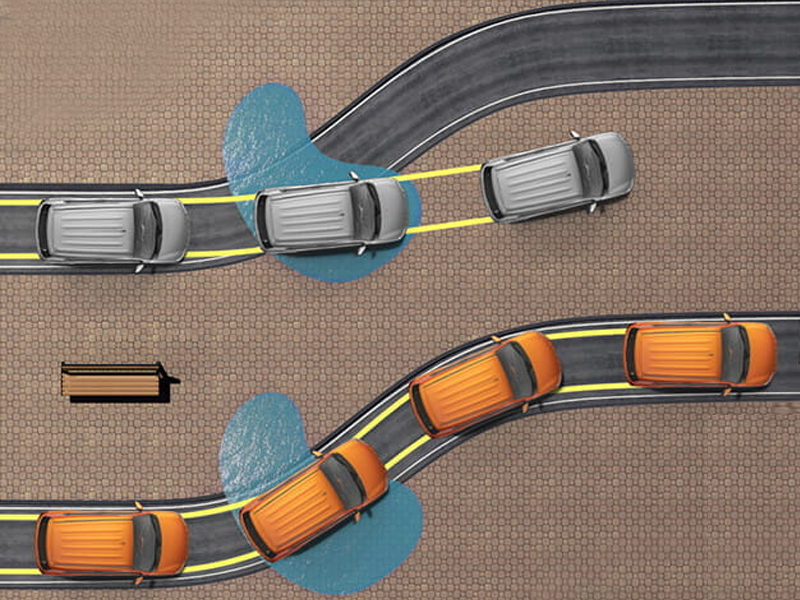 ABS with EBD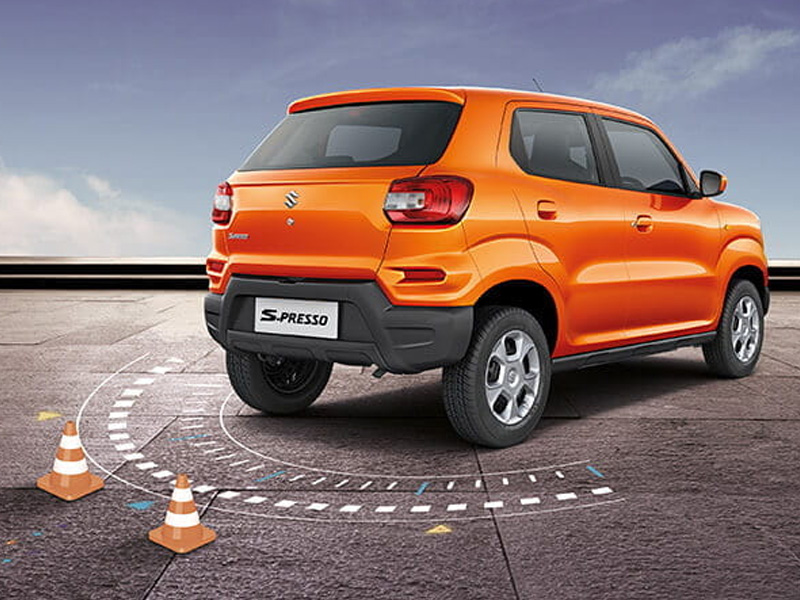 Rear Parking Assist Sensor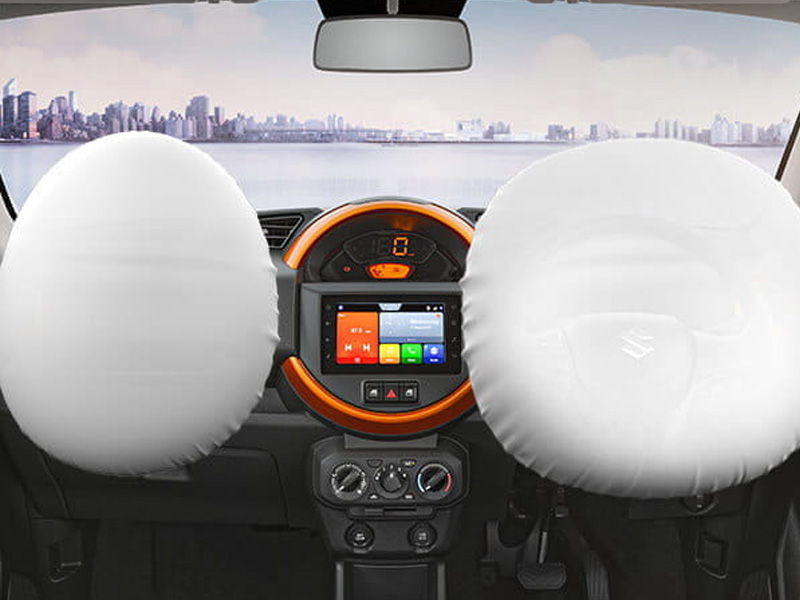 Dual Airbags
Convenience
Open the doors and the S-PRESSO simply invites you to a world of never-ending excitement. All thanks to the commanding high-view seating that lets you scope the fun around you. Plus, its Dynamic Center Console, first-in-its-class Steering-Mounted Audio and Voice Controls and swanky colour accents make you feel alive, even before you drive out.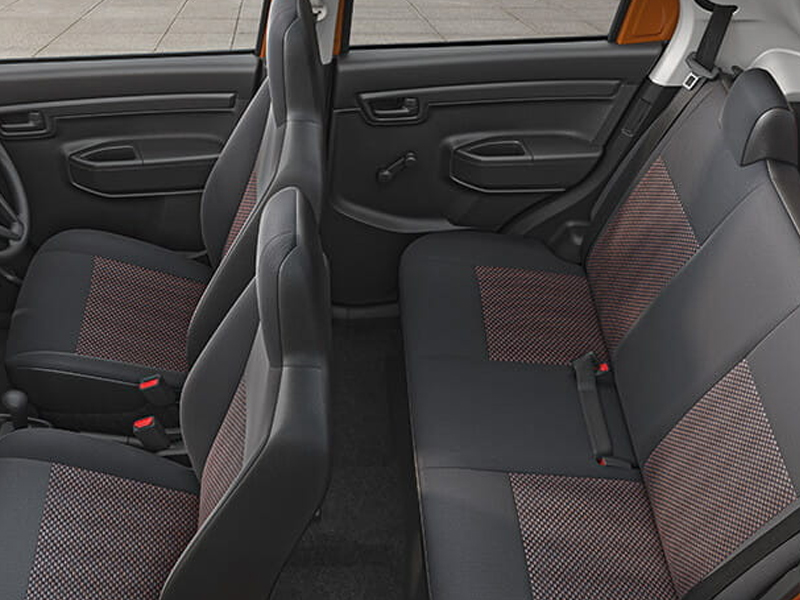 Large Cabin Space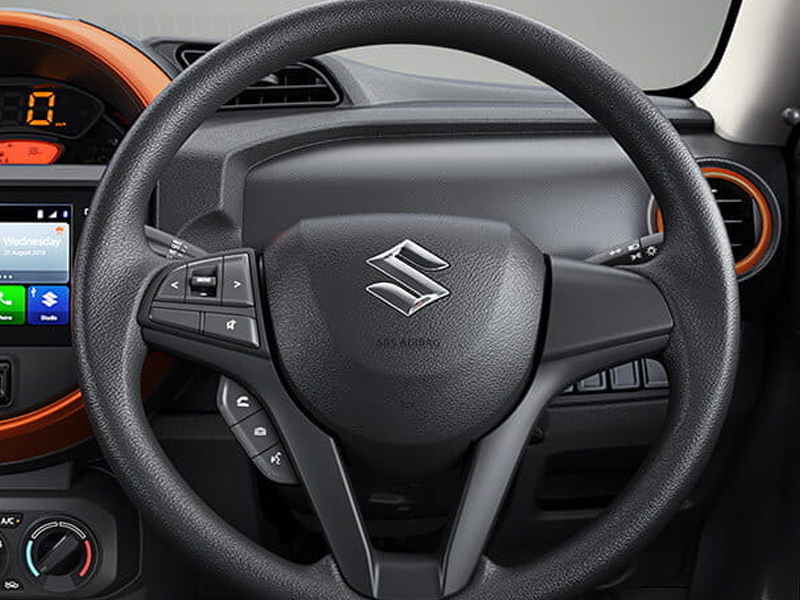 Steering-Mounted Audio Controls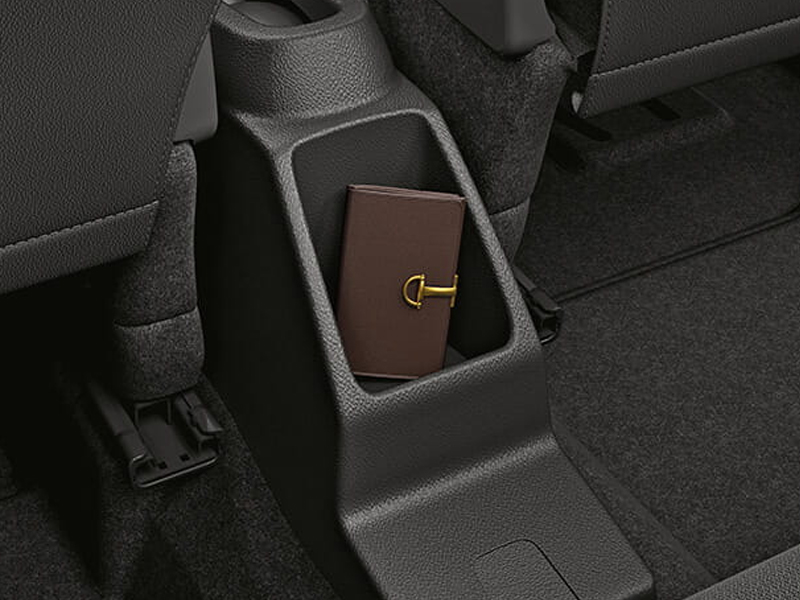 Rear Utility spaces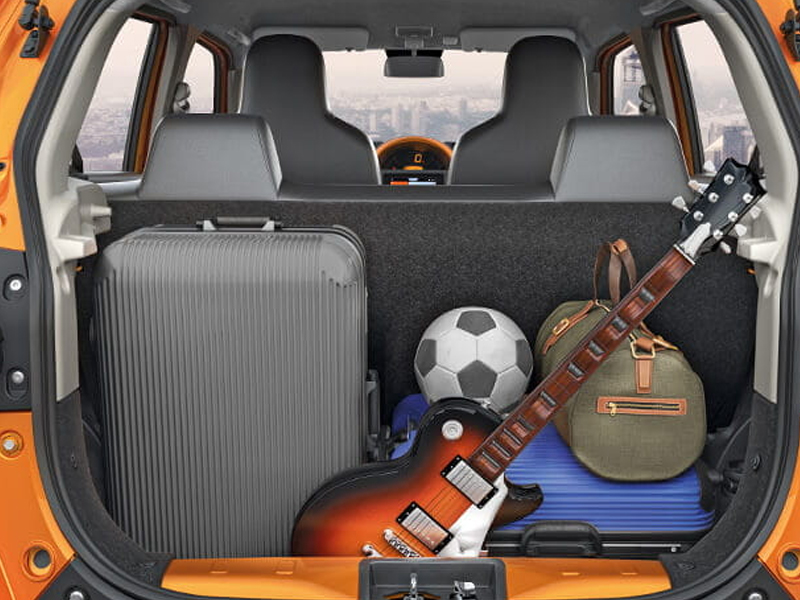 Good Luggage volume
Specifications
| | | | | | | | | | | | | | | |
| --- | --- | --- | --- | --- | --- | --- | --- | --- | --- | --- | --- | --- | --- | --- |
| | VXI AGS | VXI (O) CNG | VXI CNG | VXI + AGS | STD (O) | STD | LXI(O) | LXI | LXI (O) CNG | LXI CNG | VXI (O) | VXI | VXI + | VXI AGS (O) |
| Front | Ventilated Disc | Ventilated Disc | Ventilated Disc | Ventilated Disc | Ventilated Disc | Ventilated Disc | Ventilated Disc | Ventilated Disc | Ventilated Disc | Ventilated Disc | Ventilated Disc | Ventilated Disc | Ventilated Disc | Ventilated Disc |
| Rear | Drum | Drum | Drum | Drum | Drum | Drum | Drum | Drum | Drum | Drum | Drum | Drum | Drum | Drum |
| | | | | | | | | | | | | | | |
| --- | --- | --- | --- | --- | --- | --- | --- | --- | --- | --- | --- | --- | --- | --- |
| | VXI AGS | VXI (O) CNG | VXI CNG | VXI + AGS | STD (O) | STD | LXI(O) | LXI | LXI (O) CNG | LXI CNG | VXI (O) | VXI | VXI + | VXI AGS (O) |
| Fuel tank Capacity | 27 L | 27 L (Petrol) , 55 L(CNG Water Filling Capacity) | 27 L (Petrol) , 55 L(CNG Water Filling Capacity) | 27 L | 27 L | 27 L | 27 L | 27 L | 27 L (Petrol) , 55 L(CNG Water Filling Capacity) | 27 L (Petrol) , 55 L(CNG Water Filling Capacity) | 27 L | 27 L | 27 L | 27 L |
| Seating Capacity | 5 | 4 | 4 | 5 | 5 | 5 | 5 | 5 | 4 | 4 | 5 | 5 | 5 | 5 |
| | | | | | | | | | | | | | | |
| --- | --- | --- | --- | --- | --- | --- | --- | --- | --- | --- | --- | --- | --- | --- |
| | VXI AGS | VXI (O) CNG | VXI CNG | VXI + AGS | STD (O) | STD | LXI(O) | LXI | LXI (O) CNG | LXI CNG | VXI (O) | VXI | VXI + | VXI AGS (O) |
| Height | 1549 mm | 1549 mm | 1549 mm | 1549 mm | 1549 mm | 1549 mm | 1549 mm | 1549 mm | 1549 mm | 1549 mm | 1549 mm | 1549 mm | 1549 mm | 1549 mm |
| Length | 3565 mm | 3565 mm | 3565 mm | 3565 mm | 3565 mm | 3565 mm | 3565 mm | 3565 mm | 3565 mm | 3565 mm | 3565 mm | 3565 mm | 3565 mm | 3565 mm |
| Track, Front | MacPherson Strut with Coil Spring | MacPherson Strut with Coil Spring | MacPherson Strut with Coil Spring | MacPherson Strut with Coil Spring | MacPherson Strut with Coil Spring | MacPherson Strut with Coil Spring | MacPherson Strut with Coil Spring | MacPherson Strut with Coil Spring | MacPherson Strut with Coil Spring | MacPherson Strut with Coil Spring | MacPherson Strut with Coil Spring | MacPherson Strut with Coil Spring | MacPherson Strut with Coil Spring | MacPherson Strut with Coil Spring |
| Track, Rear | Torsion Beam with Coil Spring | Torsion Beam with Coil Spring | Torsion Beam with Coil Spring | Torsion Beam with Coil Spring | Torsion Beam with Coil Spring | Torsion Beam with Coil Spring | Torsion Beam with Coil Spring | Torsion Beam with Coil Spring | Torsion Beam with Coil Spring | Torsion Beam with Coil Spring | Torsion Beam with Coil Spring | Torsion Beam with Coil Spring | Torsion Beam with Coil Spring | Torsion Beam with Coil Spring |
| Turning Radius | 4.5 m | 4.5 m | 4.5 m | 4.5 m | 4.5 m | 4.5 m | 4.5 m | 4.5 m | 4.5 m | 4.5 m | 4.5 m | 4.5 m | 4.5 m | 4.5 m |
| Wheelbase | 2380 mm | 2380 mm | 2380 mm | 2380 mm | 2380 mm | 2380 mm | 2380 mm | 2380 mm | 2380 mm | 2380 mm | 2380 mm | 2380 mm | 2380 mm | 2380 mm |
| Width | 1520 mm | 1520 mm | 1520 mm | 1520 mm | 1520 mm | 1520 mm | 1520 mm | 1520 mm | 1520 mm | 1520 mm | 1520 mm | 1520 mm | 1520 mm | 1520 mm |
| | | | | | | | | | | | | | | |
| --- | --- | --- | --- | --- | --- | --- | --- | --- | --- | --- | --- | --- | --- | --- |
| | VXI AGS | VXI (O) CNG | VXI CNG | VXI + AGS | STD (O) | STD | LXI(O) | LXI | LXI (O) CNG | LXI CNG | VXI (O) | VXI | VXI + | VXI AGS (O) |
| Drive | -- | -- | -- | -- | -- | -- | -- | -- | -- | -- | -- | -- | -- | -- |
| | | | | | | | | | | | | | | |
| --- | --- | --- | --- | --- | --- | --- | --- | --- | --- | --- | --- | --- | --- | --- |
| | VXI AGS | VXI (O) CNG | VXI CNG | VXI + AGS | STD (O) | STD | LXI(O) | LXI | LXI (O) CNG | LXI CNG | VXI (O) | VXI | VXI + | VXI AGS (O) |
| Fuel Type | Petrol | Petrol | Petrol | Petrol | Petrol | Petrol | Petrol | Petrol | Petrol | Petrol | Petrol | Petrol | Petrol | Petrol |
| Tank Capacity | 27 L | 27 L | 27 L | 27 L | 27 L | 27 L | 27 L | 27 L | 27 L | 27 L | 27 L | 27 L | 27 L | 27 L |
| | | | | | | | | | | | | | | |
| --- | --- | --- | --- | --- | --- | --- | --- | --- | --- | --- | --- | --- | --- | --- |
| | VXI AGS | VXI (O) CNG | VXI CNG | VXI + AGS | STD (O) | STD | LXI(O) | LXI | LXI (O) CNG | LXI CNG | VXI (O) | VXI | VXI + | VXI AGS (O) |
| Power Steering Type | | | | | | | | | | | | | | -- |
Features
| | | | | | | | | | | | | | | |
| --- | --- | --- | --- | --- | --- | --- | --- | --- | --- | --- | --- | --- | --- | --- |
| | VXI AGS | VXI (O) CNG | VXI CNG | VXI + AGS | STD (O) | STD | LXI(O) | LXI | LXI (O) CNG | LXI CNG | VXI (O) | VXI | VXI + | VXI AGS (O) |
| AC | | | | | | | | | | | | | | |
| | | | | | | | | | | | | | | |
| --- | --- | --- | --- | --- | --- | --- | --- | --- | --- | --- | --- | --- | --- | --- |
| | VXI AGS | VXI (O) CNG | VXI CNG | VXI + AGS | STD (O) | STD | LXI(O) | LXI | LXI (O) CNG | LXI CNG | VXI (O) | VXI | VXI + | VXI AGS (O) |
| ABS with EBD and Brake Assist | | | | | | | | | | | | | | |