EXPENSIVE DESIGN
The Maruti Suzuki EECO brings both comfort and style to your driving experience. Its contemporary design, ample space, and new body graphics add joy to every journey that you take with your family.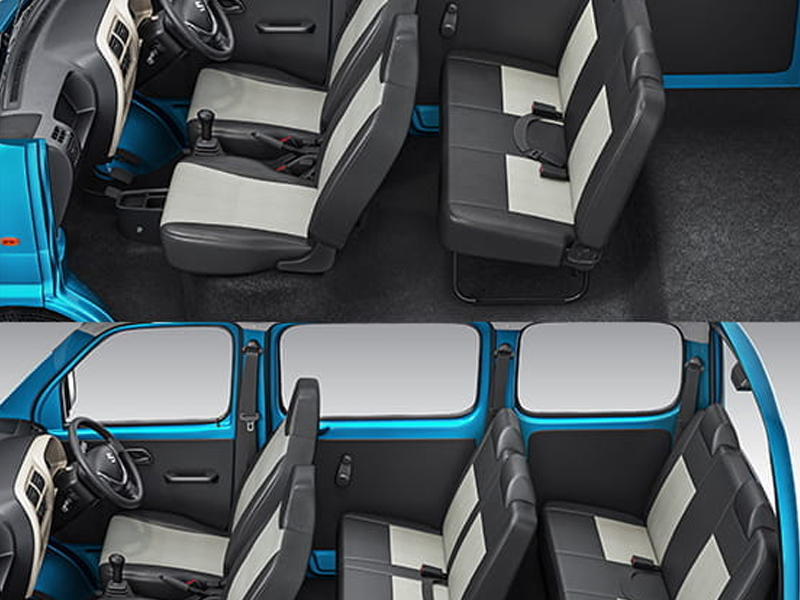 5 & 7 Seater Options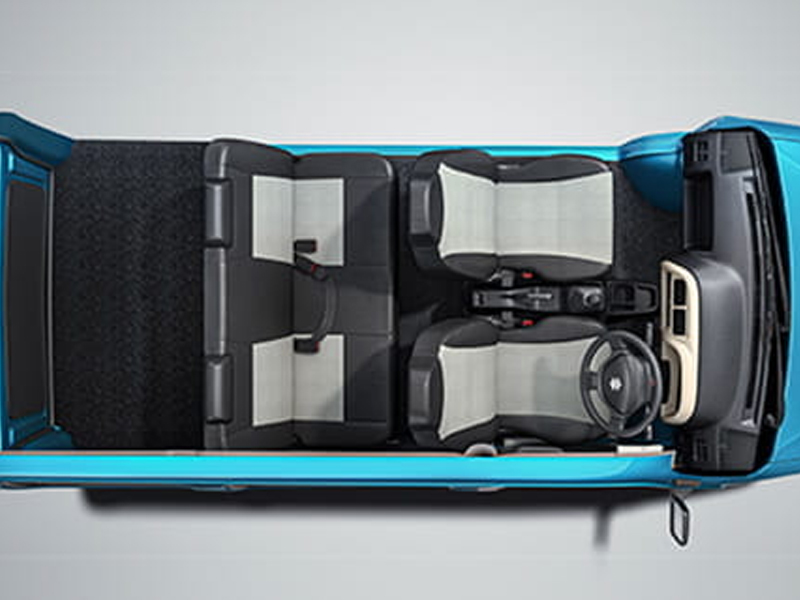 Spacious Cabin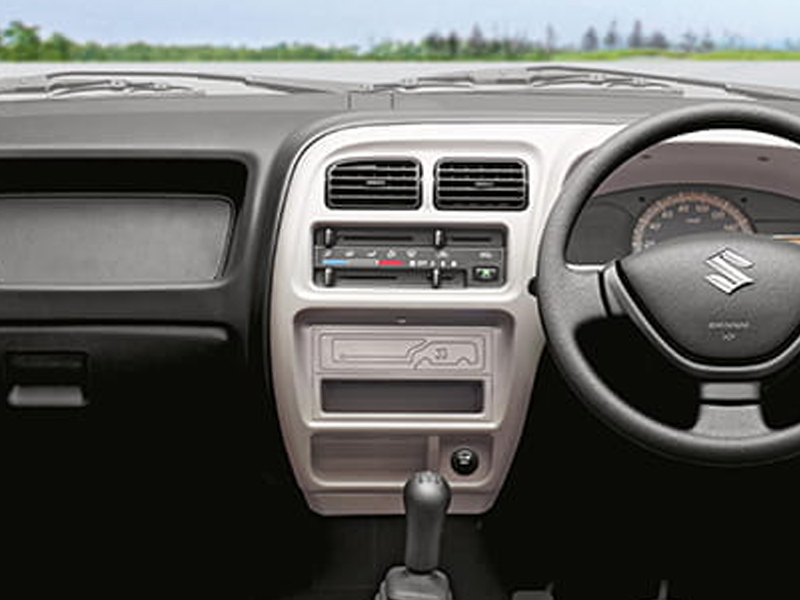 Dual Tone Interiors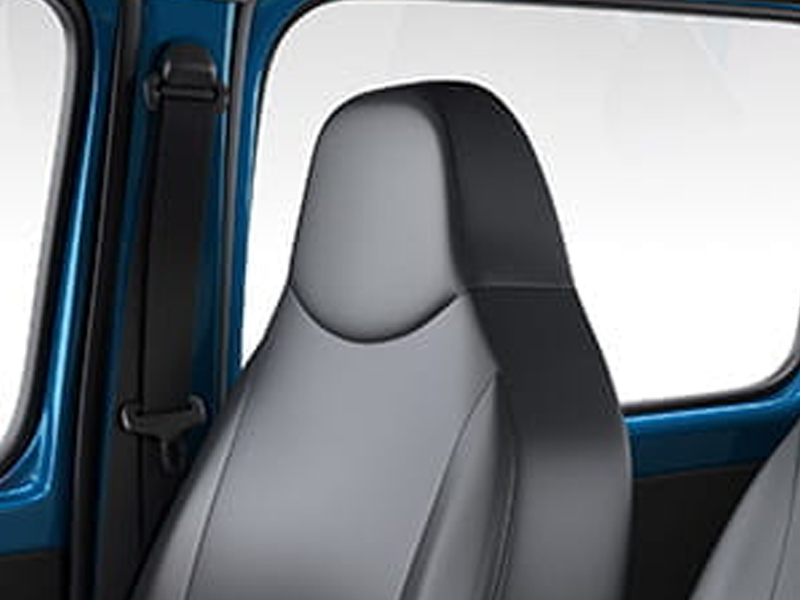 Integrated Headrests
EXPENSIVE INTERIORS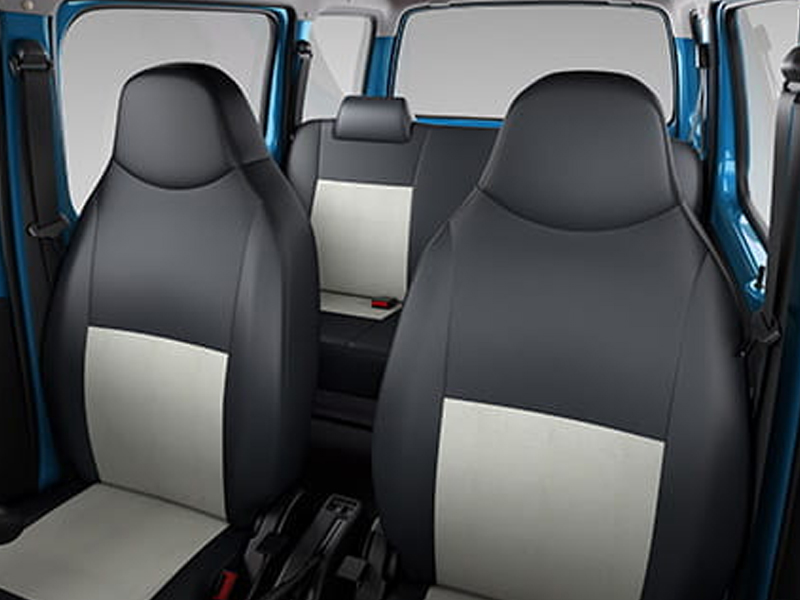 Matching Seat Covers with Interior Colour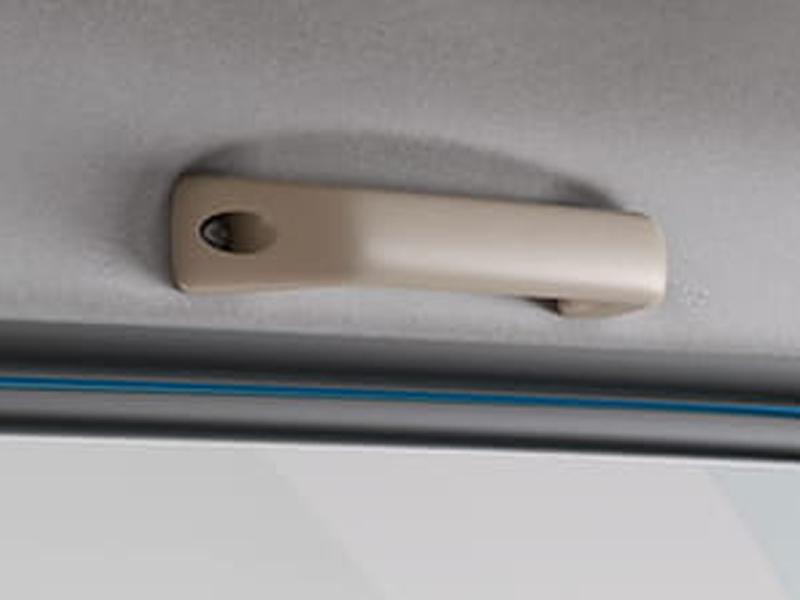 Assist Grips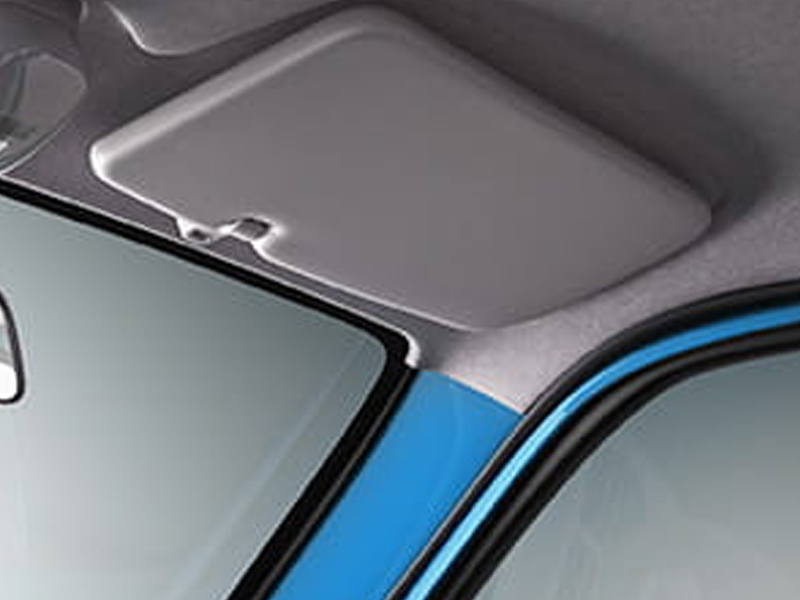 Sunvisor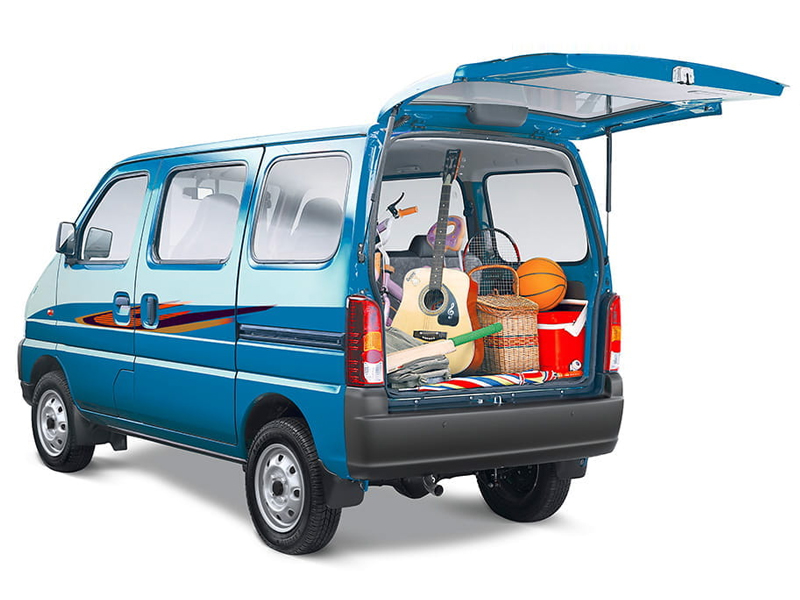 Large Boot Space
RELIABLE SAFETY
Get yourself safety assured with reliable features like Driver Airbag, ABS+EBD, Reverse Parking Sensor, Driver+Co-driver seat belt reminder. So, cover miles with worry-free smiles.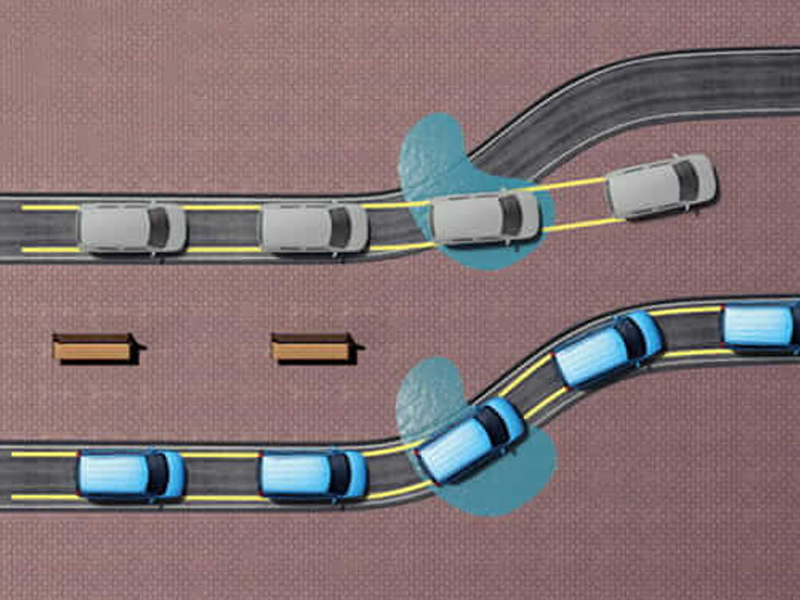 ABS+EBD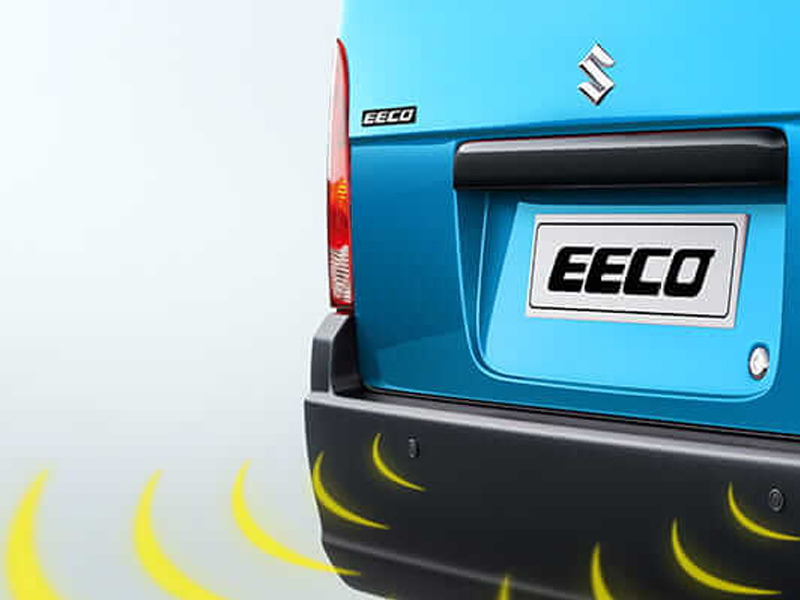 Reverse parking sensor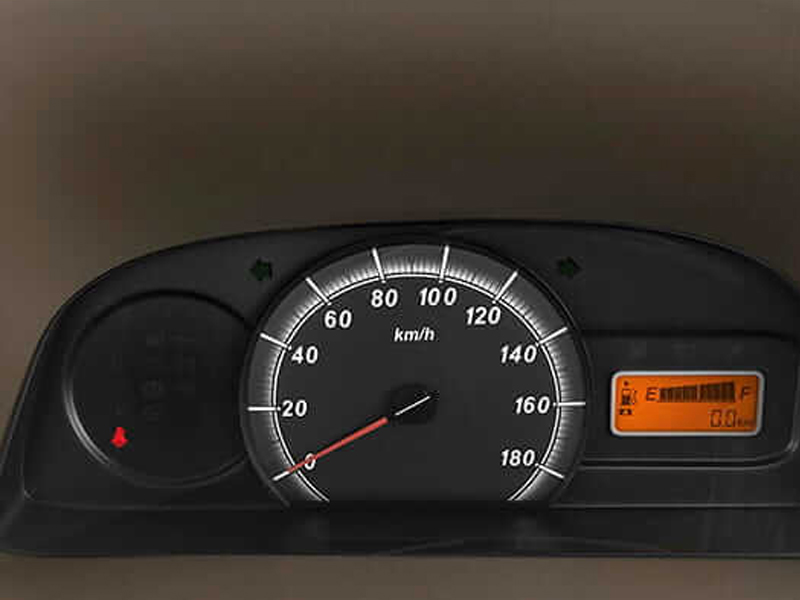 Driver+Co-driver seat belt reminder (lamp+buzzer)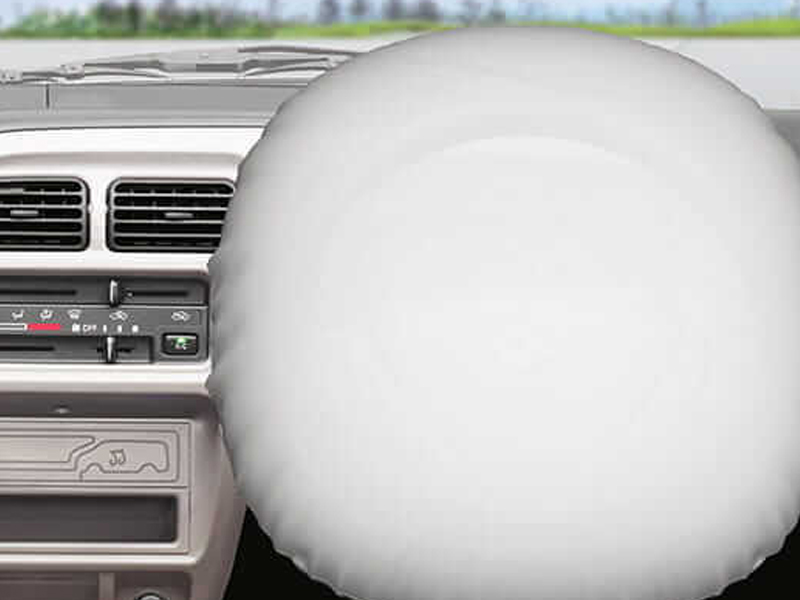 Driver airbag
Specifications
| | | | | | | | | |
| --- | --- | --- | --- | --- | --- | --- | --- | --- |
| | EECO CARE | EECO CARGO PETROL | EECO CARGO CNG | 5 SEATER STANDARD | EECO CARGO CNG AC | 7 SEATER STANDARD | 5 SEATER AC | 5 SEATER AC , CNG |
| Front | Ventilated Disc | Disc | Disc | Disc | Disc | Disc | Disc | Disc |
| Rear | Drum | Drum | Drum | Drum | Drum | Drum | Drum | Drum |
| | | | | | | | | |
| --- | --- | --- | --- | --- | --- | --- | --- | --- |
| | EECO CARE | EECO CARGO PETROL | EECO CARGO CNG | 5 SEATER STANDARD | EECO CARGO CNG AC | 7 SEATER STANDARD | 5 SEATER AC | 5 SEATER AC , CNG |
| Fuel tank Capacity | 40 L | 40L | 40L | 40 L | 40L | 40 L | 40 L | (CNG) 65 L , (Petrol) 40 L |
| Seating Capacity | 3 + 1 Patient | -- | -- | 5 | -- | 7 | 5 | 5 |
| | | | | | | | | |
| --- | --- | --- | --- | --- | --- | --- | --- | --- |
| | EECO CARE | EECO CARGO PETROL | EECO CARGO CNG | 5 SEATER STANDARD | EECO CARGO CNG AC | 7 SEATER STANDARD | 5 SEATER AC | 5 SEATER AC , CNG |
| Height | 1905 mm | 1825 mm | 1800 mm | 1825 mm (Unladen ) | 1800 mm | 1825 mm (Unladen ) | 1825 mm (Unladen ) | 1825 mm (Unladen ) |
| Length | 3675 mm | 3675 mm | 3675 mm | 3675 mm | 3675 mm | 3675 mm | 3675 mm | 3675 mm |
| Track, Front | 1280 mm | 1280 mm | 1280 mm | 1280 mm | 1280 mm | 1280 mm | 1280 mm | 1280 mm |
| Track, Rear | 1290 mm | 1290 mm | 1290 mm | 1290 mm | 1290 mm | 1290 mm | 1290 mm | 1290 mm |
| Turning Radius | 4.5 m | 4.5 m | 4.5 m | 4.5 m | 4.5 m | 4.5 m | 4.5 m | 4.5 m |
| Wheelbase | 2350 mm | 2350 mm | 2350 mm | 2350 mm | 2350 mm | 2350 mm | 2350 mm | 2350 mm |
| Width | 1475 mm | 1475 mm | 1475 mm | 1475 mm | 1475 mm | 1475 mm | 1475 mm | 1475 mm |
| | | | | | | | | |
| --- | --- | --- | --- | --- | --- | --- | --- | --- |
| | EECO CARE | EECO CARGO PETROL | EECO CARGO CNG | 5 SEATER STANDARD | EECO CARGO CNG AC | 7 SEATER STANDARD | 5 SEATER AC | 5 SEATER AC , CNG |
| Capacity | -- | -- | -- | 1196 | -- | 1196 | 1196 | -- |
| Engine Type | 4 Stroke Spark Ignition | G12B | G12B | G12B | G12B | G12B | G12B | G12B |
| Fuel Type | Petrol & CNG | Petrol | Petrol & CNG | Petrol | Petrol & CNG | Petrol | Petrol | CNG |
| Maximum Power | 54 kW @ 6000 rpm | 54 kW @ 6000 rpm | 54 kW @ 6000 rpm (Gasoline) | 54 kW @ 6000 rpm | 54 kW @ 6000 rpm (Gasoline) | 54 kW @ 6000 rpm | 54 kW @ 6000 rpm | 46 kW @ 6000 rpm |
| Maximum Torque | 101 Nm @ 3000 rpm | 98 Nm @ 3000 rpm | 98 Nm @ 3000 rpm (Gasoline) | 98 Nm @ 3000 rpm | 98 Nm @ 3000 rpm (Gasoline) | 98 Nm @ 3000 rpm | 98 Nm @ 3000 rpm | 85 Nm @ 3000 rpm |
| No. of valves | 16 | 16 | 16 | 16 | 16 | 16 | 16 | 16 |
| Number of cylinders | 4 | 4 | 4 | 4 | 4 | 4 | 4 | 4 |
| | | | | | | | | |
| --- | --- | --- | --- | --- | --- | --- | --- | --- |
| | EECO CARE | EECO CARGO PETROL | EECO CARGO CNG | 5 SEATER STANDARD | EECO CARGO CNG AC | 7 SEATER STANDARD | 5 SEATER AC | 5 SEATER AC , CNG |
| Fuel Type | Petrol & CNG | Petrol | Petrol & CNG | Petrol | Petrol & CNG | Petrol | Petrol | CNG |
| Tank Capacity | 40L | 40L | (CNG) 65 L , (Petrol) 40 L | 40L | (CNG) 65 L , (Petrol) 40 L | 40L | 40L | (CNG) 65 L , (Petrol) 40 L |
| | | | | | | | | |
| --- | --- | --- | --- | --- | --- | --- | --- | --- |
| | EECO CARE | EECO CARGO PETROL | EECO CARGO CNG | 5 SEATER STANDARD | EECO CARGO CNG AC | 7 SEATER STANDARD | 5 SEATER AC | 5 SEATER AC , CNG |
| Tyre Size | 155 R13 LT | 155 R13 LT 8PR | 155 R13 LT 8PR | 155 R13 LT 8PR | 155 R13 LT 8PR | 155 R13 LT 8PR | 155 R13 LT 8PR | 155 R13 LT 8PR |
| | | | | | | | | |
| --- | --- | --- | --- | --- | --- | --- | --- | --- |
| | EECO CARE | EECO CARGO PETROL | EECO CARGO CNG | 5 SEATER STANDARD | EECO CARGO CNG AC | 7 SEATER STANDARD | 5 SEATER AC | 5 SEATER AC , CNG |
| Kerb Weight | 1030 kg | 920 kg | 1010 kg | 940 kg | 1030 kg | 940 kg | 940 kg | 1050 kg |
Features
| | | | | | | | | |
| --- | --- | --- | --- | --- | --- | --- | --- | --- |
| | EECO CARE | EECO CARGO PETROL | EECO CARGO CNG | 5 SEATER STANDARD | EECO CARGO CNG AC | 7 SEATER STANDARD | 5 SEATER AC | 5 SEATER AC , CNG |
| 12 Volt Accessory Socket | | | | | | | | |
| Audio 1 Din Box + Cover | -- | | | -- | | -- | -- | -- |
| Digital Meter Cluster | | | | | | | | |
| Multi Tripmeter | | | | | | | | |
| Speedometer Illumination Color | | | | | | | | |
| | | | | | | | | |
| --- | --- | --- | --- | --- | --- | --- | --- | --- |
| | EECO CARE | EECO CARGO PETROL | EECO CARGO CNG | 5 SEATER STANDARD | EECO CARGO CNG AC | 7 SEATER STANDARD | 5 SEATER AC | 5 SEATER AC , CNG |
| Heater | | | | | | | | |
| Rear Seat Headrest | | | | | | | | |
| Reclining Front Seat | -- | | | | | | | |
| Sliding Driver Seat | | | | | | | | |
| | | | | | | | | |
| --- | --- | --- | --- | --- | --- | --- | --- | --- |
| | EECO CARE | EECO CARGO PETROL | EECO CARGO CNG | 5 SEATER STANDARD | EECO CARGO CNG AC | 7 SEATER STANDARD | 5 SEATER AC | 5 SEATER AC , CNG |
| Ambulance Decal | | -- | -- | -- | -- | -- | -- | -- |
| Badging | | -- | | -- | | -- | -- | -- |
| Black Full Wheel Covers | | -- | | | | | | |
| Covered Cargo Cabin | -- | -- | | -- | | -- | -- | -- |
| Door Lock | -- | -- | Driver and Back Door | -- | Driver and Back Door | -- | -- | -- |
| Front Mud Flaps | | -- | -- | | | | | |
| Headlamp Leveling | -- | | -- | -- | -- | -- | -- | -- |
| LED High Mounted Stop Lamp | -- | | -- | -- | -- | -- | -- | -- |
| Outside Rear View Mirror (Left & Right) | | -- | | | | | | |
| Partly Frosted Back Door Window | | -- | -- | -- | -- | -- | -- | -- |
| Partly Frosted Rear Side Windows | | -- | -- | -- | -- | -- | -- | -- |
| Reflector Strips - Front & Rear | -- | | -- | -- | -- | -- | -- | -- |
| Side Impact Beams | -- | | -- | -- | -- | -- | -- | -- |
| Speed Limiting Device | -- | | -- | -- | -- | -- | -- | -- |
| Tubeless Tyres | -- | -- | | -- | | -- | -- | -- |
| | | | | | | | | |
| --- | --- | --- | --- | --- | --- | --- | --- | --- |
| | EECO CARE | EECO CARGO PETROL | EECO CARGO CNG | 5 SEATER STANDARD | EECO CARGO CNG AC | 7 SEATER STANDARD | 5 SEATER AC | 5 SEATER AC , CNG |
| Co-driver Assist Grip | | | | | | | | |
| Flat Cargo Bed | -- | | | -- | | -- | -- | -- |
| Floor Carpet | -- | | | -- | | -- | -- | -- |
| Front Cabin Lamp | | | -- | | | | | |
| Interior Color | | -- | -- | -- | -- | -- | -- | -- |
| Molded Floor Carpet | -- | -- | -- | | -- | | | |
| Molded Roof Lining | | | | | | | | |
| Molded Rubber Matting | | -- | -- | -- | -- | -- | -- | -- |
| New Color Seats | -- | | | | | | | |
| New Interior Color | | | | | | | | |
| Rear Cabin Lamp | -- | | | | | | | |
| Steering Lock | | -- | -- | -- | -- | -- | -- | -- |
| Sunvisor | | | | | | | | |
| | | | | | | | | |
| --- | --- | --- | --- | --- | --- | --- | --- | --- |
| | EECO CARE | EECO CARGO PETROL | EECO CARGO CNG | 5 SEATER STANDARD | EECO CARGO CNG AC | 7 SEATER STANDARD | 5 SEATER AC | 5 SEATER AC , CNG |
| ABS with EBD | | -- | -- | -- | -- | -- | -- | -- |
| Child Lock | Sliding Doors & Windows | -- | -- | Sliding Doors & Windows | -- | Sliding Doors & Windows | Sliding Doors & Windows | Sliding Doors & Windows |
| Driver Airbag | | -- | -- | -- | -- | -- | -- | -- |
| Fire Extinguisher | -- | -- | | -- | | -- | -- | -- |
| Front Seat Belts with Pre-Tensioner and Force Limiter | | -- | -- | | -- | | | |
| Headlamp Leveling | | | | | | | | |
| High Mount Stop Lamp | | | | | | | | |
| High Speed Alert System* | | -- | -- | -- | -- | -- | -- | -- |
| Reflector Strips | Front & Rear | -- | Front & Rear | -- | Front & Rear | -- | -- | -- |
| Reverse Parking Sensors | | -- | -- | -- | -- | -- | -- | -- |
| Seat Belt Reminder & Buzzer (Driver & Co-Driver Side) | | -- | -- | -- | -- | -- | -- | -- |
| Side Impact Protection Beam | | | | | | | | |
| Speed Limiting Device | -- | 80 Km/h | 80 Km/h | -- | 80 Km/h | -- | -- | -- |