HIGHLIGHTS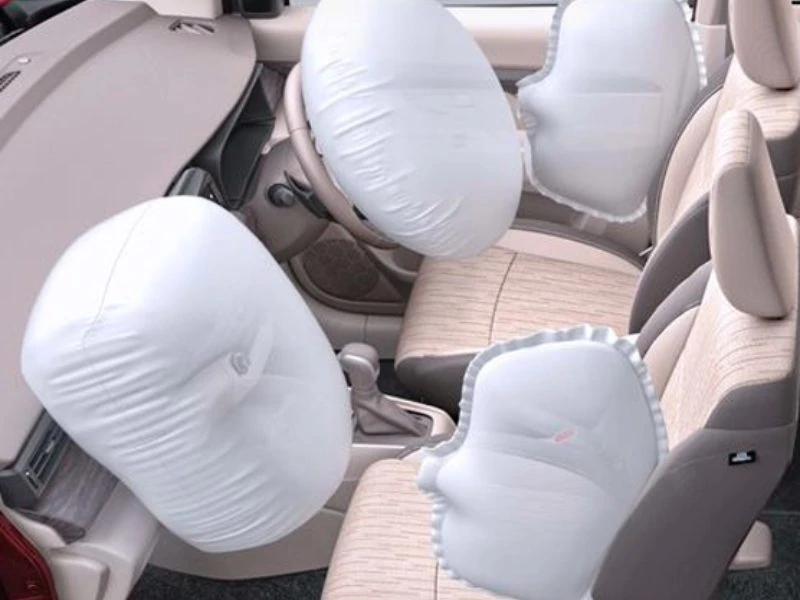 Quad Airbags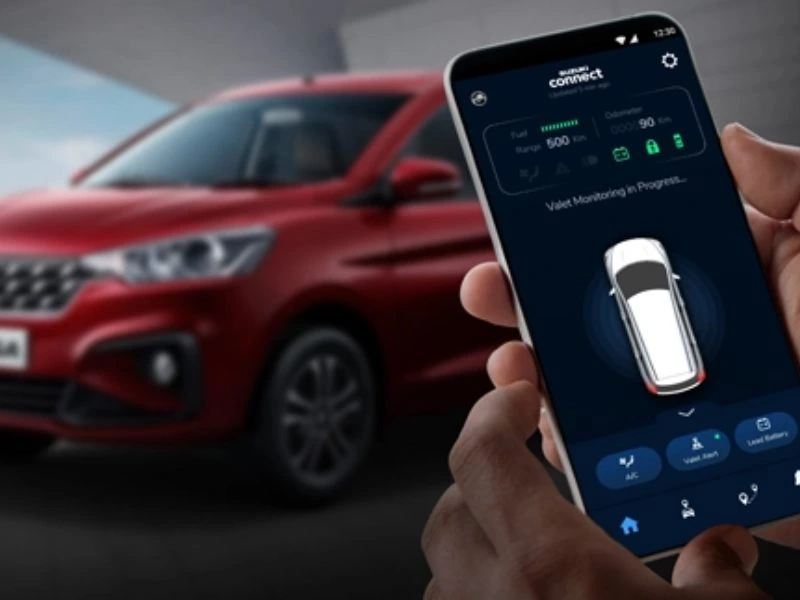 Connected Car Technology with Suzuki Connect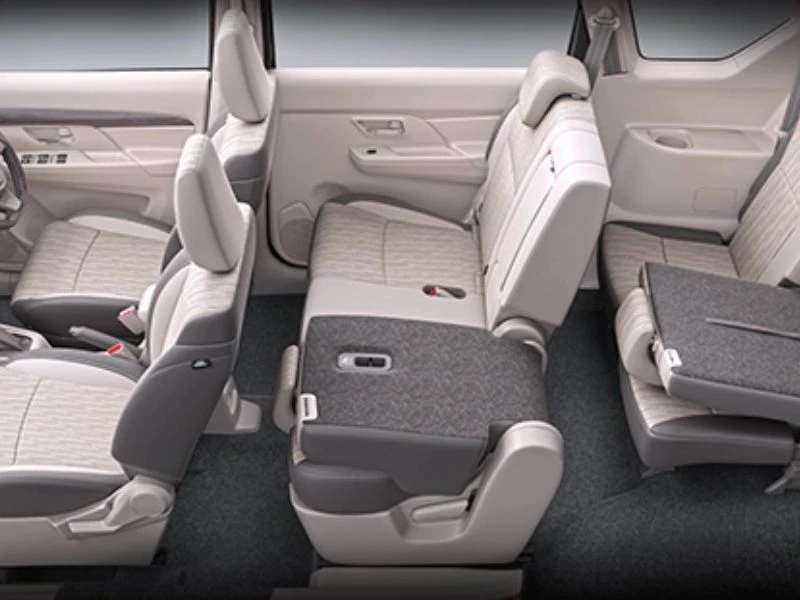 Smart Flexi Seating with 2nd & 3rd Row Recliner Seats
Exterior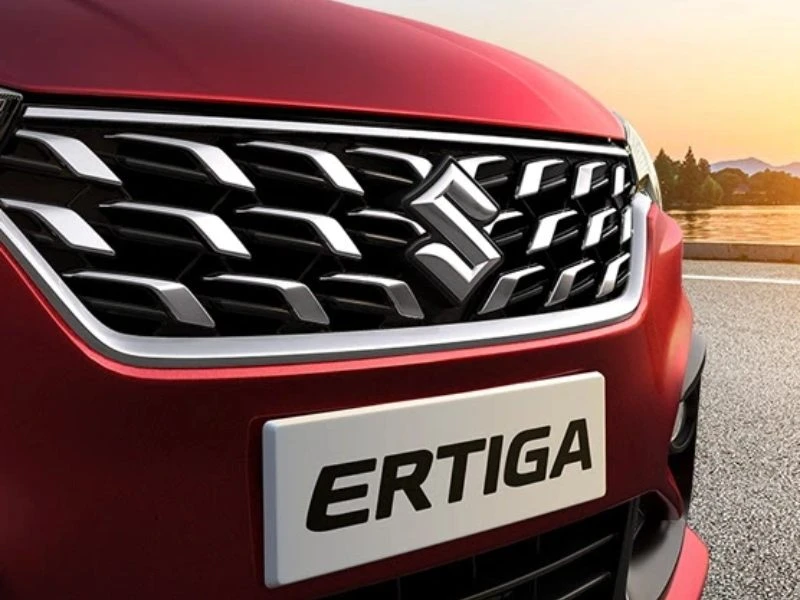 New Dynamic Chrome Winged Front Grille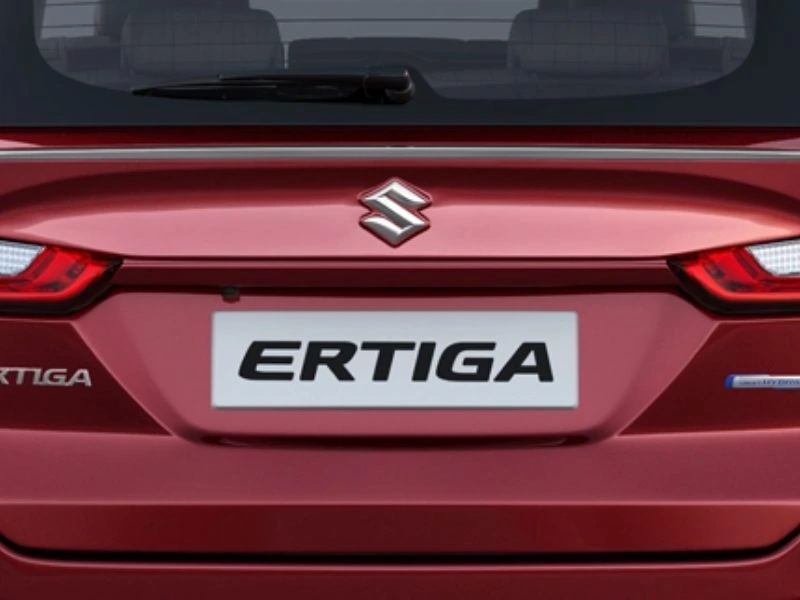 New Back Door Garnish with Chrome Insert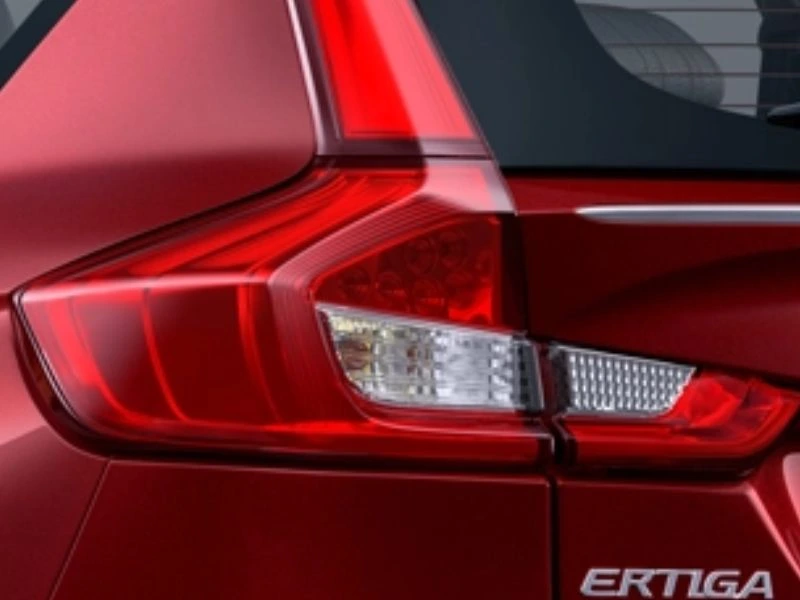 3D Origami Style LED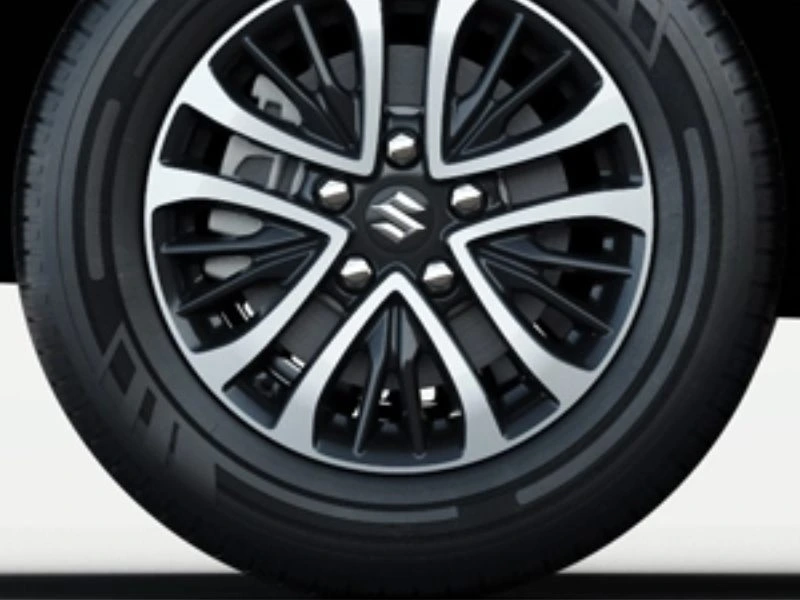 Machined Two-tone Alloy Wheels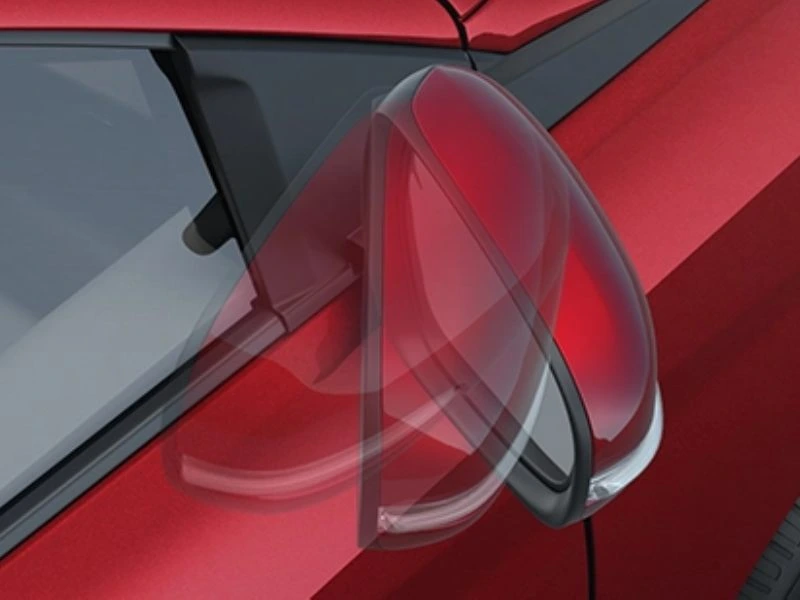 Retractable ORVMs
Interior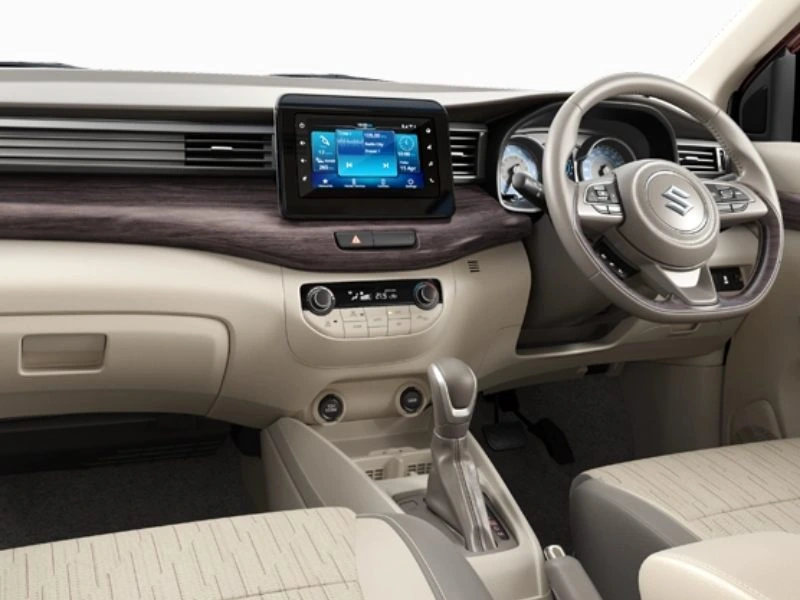 Sculpted Dashboard with Metallic Teak-Wooden Finish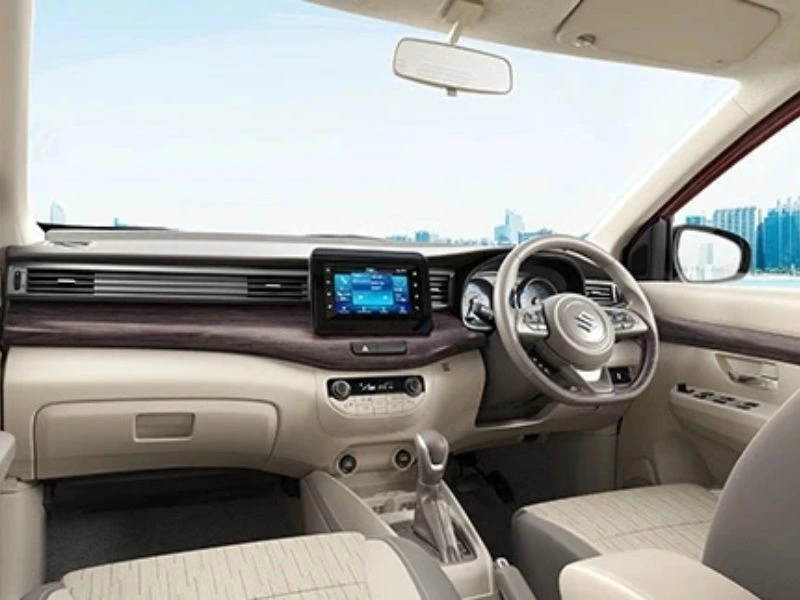 Plush Dual Tone Interiors
17.78cm SmartPlay Pro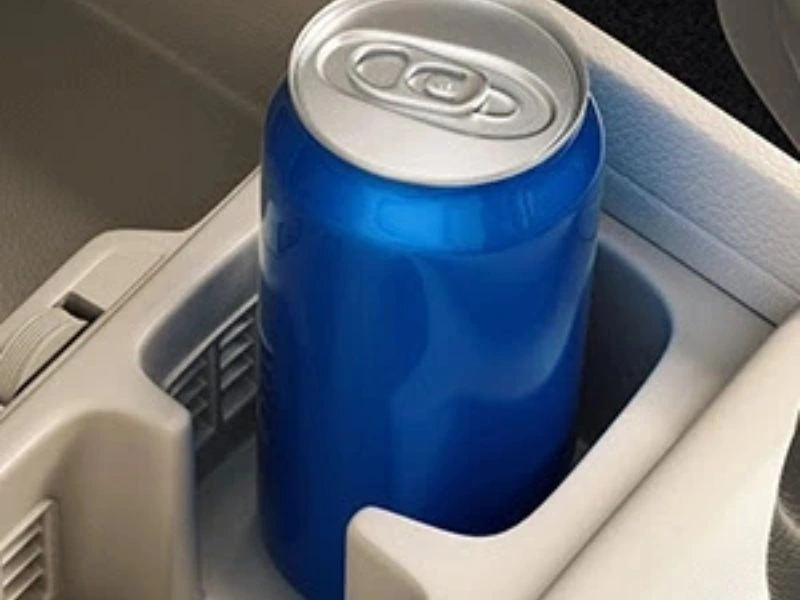 Air Cooled Twin Cup Holders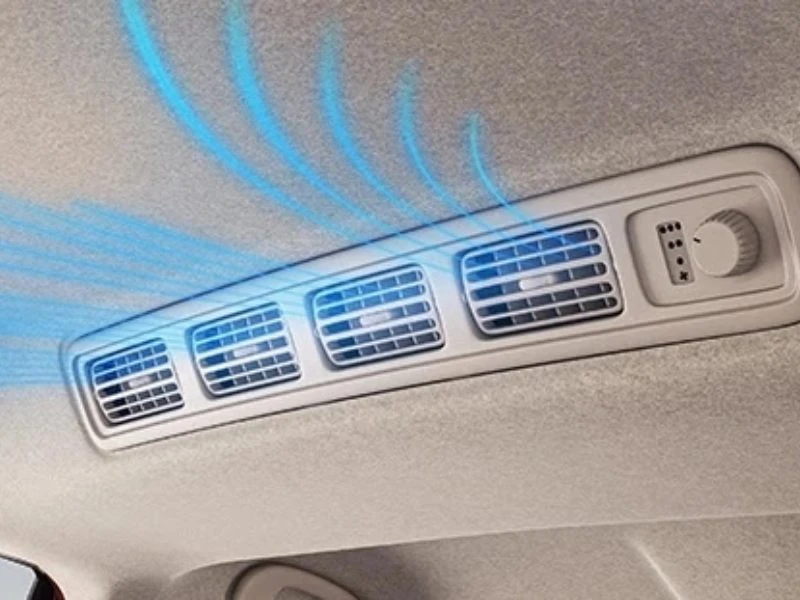 2nd Row roof mounted AC
Progressive Smart Hybrid Technology
Ertiga is engineered for enhanced refinement with improved fuel efficiency ensuring a pleasurable driving experience for all.
Safe in Every Sense
Reliable and proven Heartect Platform coupled with Quad Airbags in Ertiga are engineered to cocoon every passenger in complete safety and peace of mind.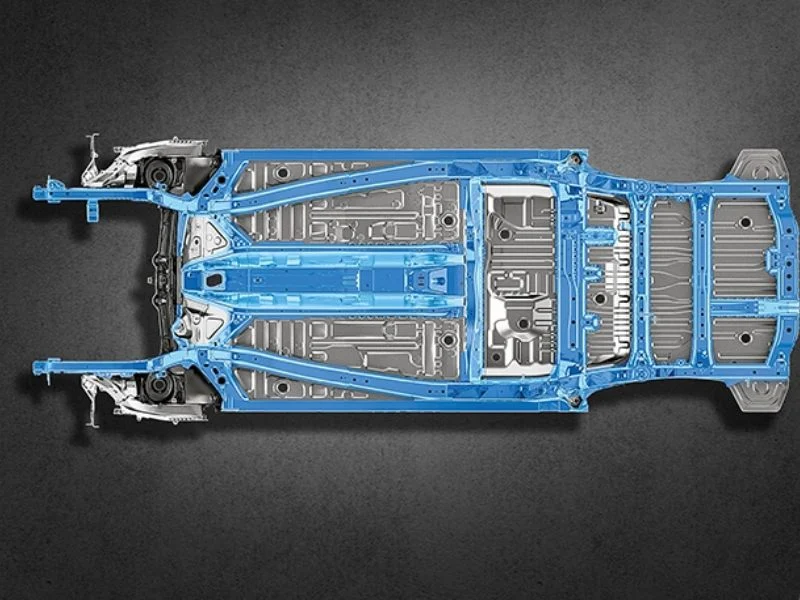 Heartect Platform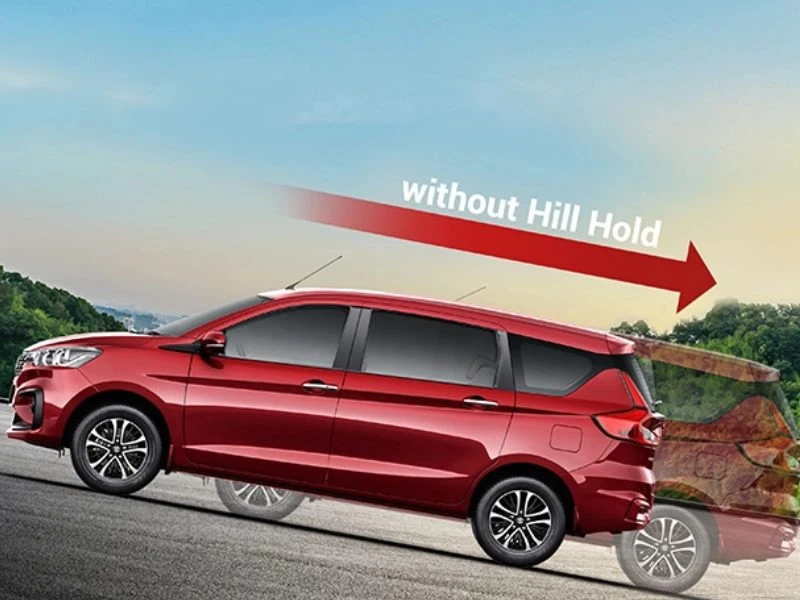 Hill Hold Technology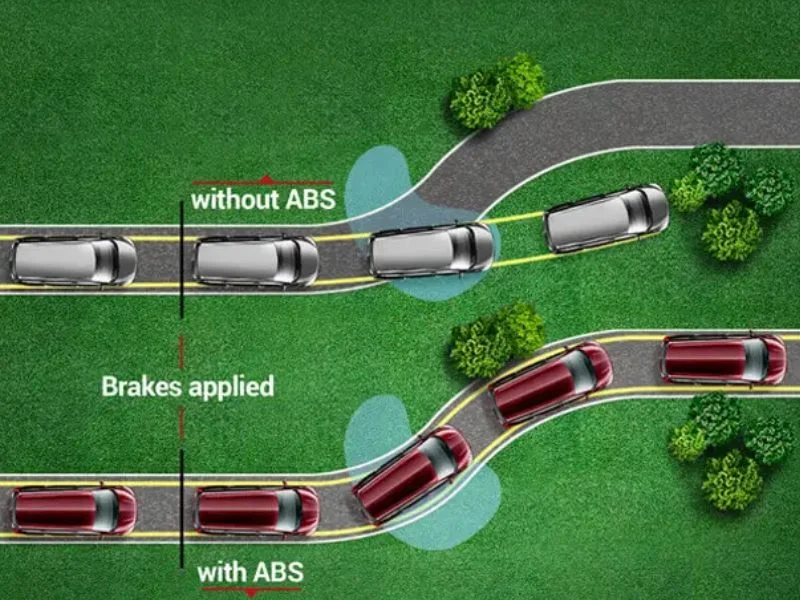 ABS with EBD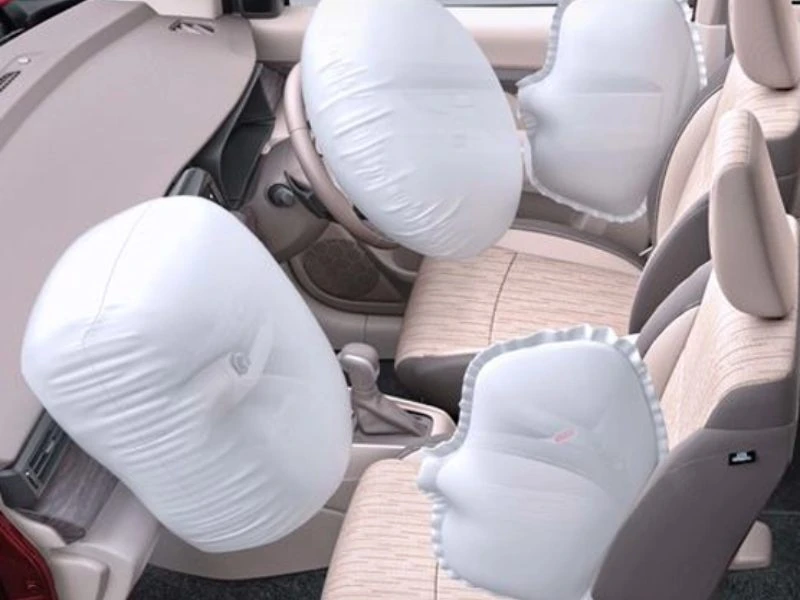 Quad Airbags
Always Awesome Always Advanced
Togetherness, driven by technology.The Eritga is equipped with state-of-the-art technology to add more fun to your moments of togetherness.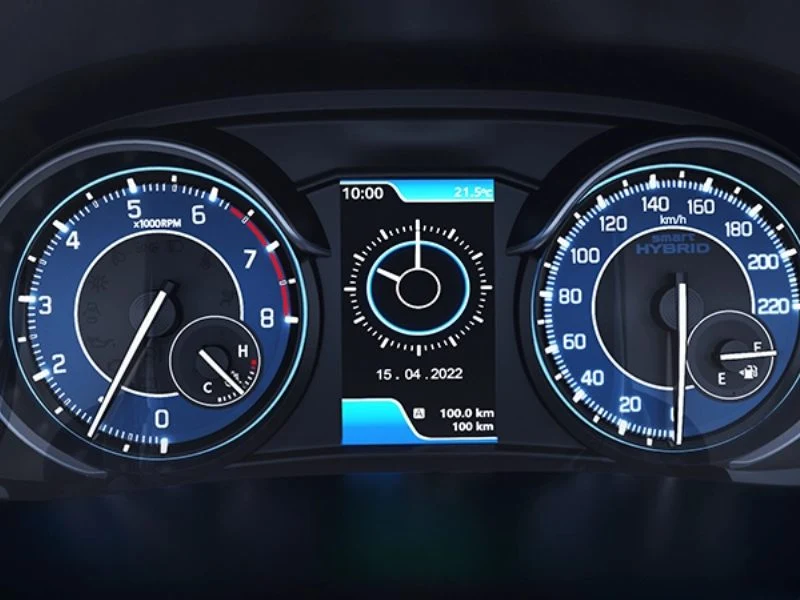 TFT Multi-Information Colour Display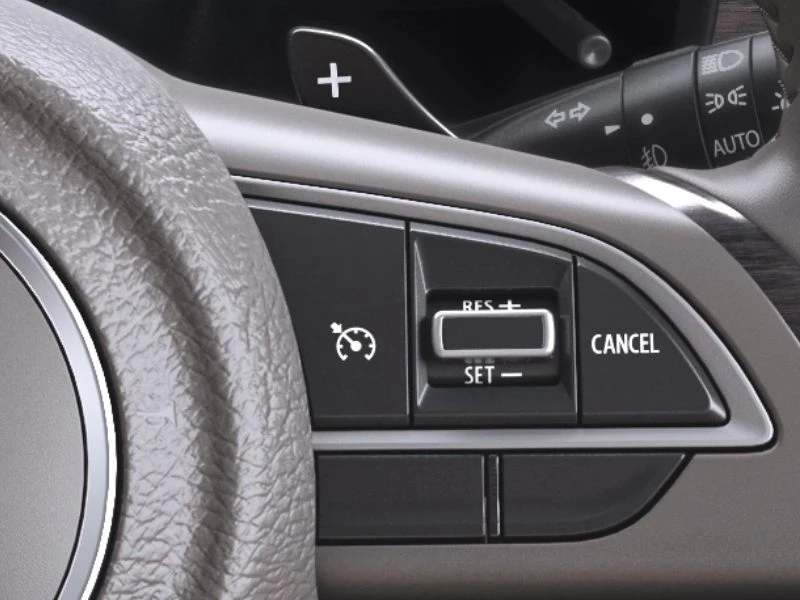 Cruise Control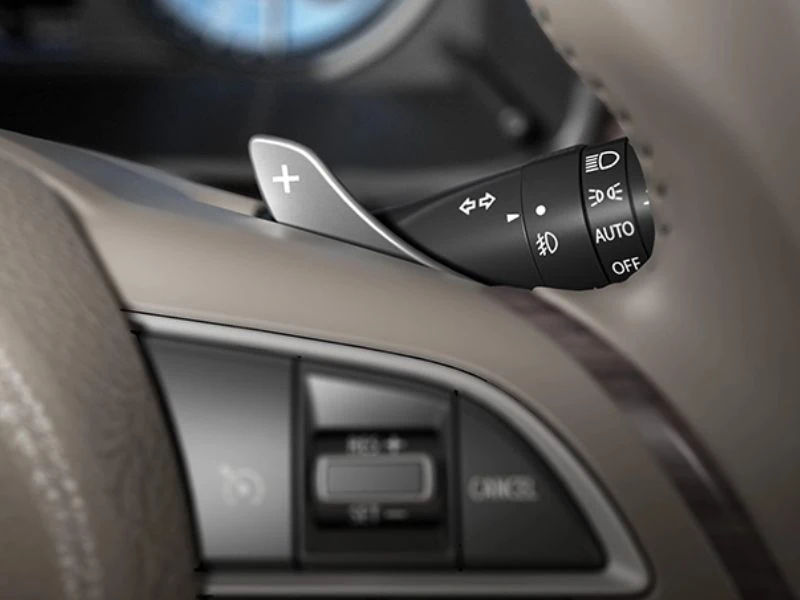 6-Speed AT with Paddle Shifters
Specifications
| | | | | | | | | | |
| --- | --- | --- | --- | --- | --- | --- | --- | --- | --- |
| | LXI MT | ZXI CNG | ZXI+ AT | VXI MT | VXI AT | VXI CNG | ZXI MT | ZXI AT | ZXI+ MT |
| Front | Disc | Disc | Disc | Disc | Disc | Disc | Disc | Disc | Disc |
| Rear | Drum | Drum | Drum | Drum | Drum | Drum | Drum | Drum | Drum |
| | | | | | | | | | |
| --- | --- | --- | --- | --- | --- | --- | --- | --- | --- |
| | LXI MT | ZXI CNG | ZXI+ AT | VXI MT | VXI AT | VXI CNG | ZXI MT | ZXI AT | ZXI+ MT |
| Fuel tank Capacity | 45 L | 45 L, CNG: 60L (Water Equivalent) | 45 L | 45 L | 45 L | 45 L, CNG: 60L (Water Equivalent) | 45 L | 45 L | 45 L |
| Seating Capacity | 7 | 7 | 7 | 7 | 7 | 7 | 7 | 7 | 7 |
| | | | | | | | | | |
| --- | --- | --- | --- | --- | --- | --- | --- | --- | --- |
| | LXI MT | ZXI CNG | ZXI+ AT | VXI MT | VXI AT | VXI CNG | ZXI MT | ZXI AT | ZXI+ MT |
| Boot Space | 209 (All 3 Rows Up), 550 (3rd Row Folded) & 803 (2nd Row and 3rd Row Folded) | -- | 209 (All 3 Rows Up), 550 (3rd Row Folded) & 803 (2nd Row and 3rd Row Folded) | 209 (All 3 Rows Up), 550 (3rd Row Folded) & 803 (2nd Row and 3rd Row Folded) | 209 (All 3 Rows Up), 550 (3rd Row Folded) & 803 (2nd Row and 3rd Row Folded) | -- | 209 (All 3 Rows Up), 550 (3rd Row Folded) & 803 (2nd Row and 3rd Row Folded) | 209 (All 3 Rows Up), 550 (3rd Row Folded) & 803 (2nd Row and 3rd Row Folded) | 209 (All 3 Rows Up), 550 (3rd Row Folded) & 803 (2nd Row and 3rd Row Folded) |
| Height | 1690 mm | 1690 mm | 1690 mm | 1690 mm | 1690 mm | 1690 mm | 1690 mm | 1690 mm | 1690 mm |
| Length | 4395 mm | 4395 mm | 4395 mm | 4395 mm | 4395 mm | 4395 mm | 4395 mm | 4395 mm | 4395 mm |
| Track, Front | -- | -- | -- | -- | -- | -- | -- | -- | -- |
| Track, Rear | -- | -- | -- | -- | -- | -- | -- | -- | -- |
| Turning Radius | 5.2 m | 5.2 m | 5.2 m | 5.2 m | 5.2 m | 5.2 m | 5.2 m | 5.2 m | 5.2 m |
| Wheelbase | 2740 mm | 2740 mm | 2740 mm | 2740 mm | 2740 mm | 2740 mm | 2740 mm | 2740 mm | 2740 mm |
| Width | 1735 mm | 1735 mm | 1735 mm | 1735 mm | 1735 mm | 1735 mm | 1735 mm | 1735 mm | 1735 mm |
| | | | | | | | | | |
| --- | --- | --- | --- | --- | --- | --- | --- | --- | --- |
| | LXI MT | ZXI CNG | ZXI+ AT | VXI MT | VXI AT | VXI CNG | ZXI MT | ZXI AT | ZXI+ MT |
| Bore X Stroke | 74.0 x 85.0 mm | 74.0 x 85.0 mm | 74.0 x 85.0 mm | 74.0 x 85.0 mm | 74.0 x 85.0 mm | 74.0 x 85.0 mm | 74.0 x 85.0 mm | 74.0 x 85.0 mm | 74.0 x 85.0 mm |
| Capacity | 1462 cc | 1462 cc | 1462 cc | 1462 cc | 1462 cc | 1462 cc | 1462 cc | 1462 cc | 1462 cc |
| Compression Ratio | 12 ± 0.3 | 12 ± 0.3 | 12 ± 0.3 | 12 ± 0.3 | 12 ± 0.3 | 12 ± 0.3 | 12 ± 0.3 | 12 ± 0.3 | 12 ± 0.3 |
| Emission Type | BS VI | BS VI | BS VI | BS VI | BS VI | BS VI | BS VI | BS VI | BS VI |
| Engine Type | K15C SMART HYBRID | K15C | K15C SMART HYBRID | K15C SMART HYBRID | K15C SMART HYBRID | K15C | K15C SMART HYBRID | K15C SMART HYBRID | K15C SMART HYBRID |
| Fuel Type | Petrol | Petrol | Petrol | Petrol | Petrol | Petrol | Petrol | Petrol | Petrol |
| Maximum Power | 75.8 kW @ 6000 RPM | 75.8 kW @ 6000 RPM, 64.6 kW @ 5500 RPM (CNG Mode) | 75.8 kW @ 6000 RPM | 75.8 kW @ 6000 RPM | 75.8 kW @ 6000 RPM | 75.8 kW @ 6000 RPM, 64.6 kW @ 5500 RPM (CNG Mode) | 75.8 kW @ 6000 RPM | 75.8 kW @ 6000 RPM | 75.8 kW @ 6000 RPM |
| Maximum Torque | 136.8 Nm @ 4400 RPM | 136.8 Nm @ 4400 RPM, 121.5 Nm @ 4200 RPM (CNG Mode) | 136.8 Nm @ 4400 RPM | 136.8 Nm @ 4400 RPM | 136.8 Nm @ 4400 RPM | 136.8 Nm @ 4400 RPM, 121.5 Nm @ 4200 RPM (CNG Mode) | 136.8 Nm @ 4400 RPM | 136.8 Nm @ 4400 RPM | 136.8 Nm @ 4400 RPM |
| | | | | | | | | | |
| --- | --- | --- | --- | --- | --- | --- | --- | --- | --- |
| | LXI MT | ZXI CNG | ZXI+ AT | VXI MT | VXI AT | VXI CNG | ZXI MT | ZXI AT | ZXI+ MT |
| Fuel Efficiency | 19.01km/l | 26.08 km/l | -- | 19.01km/l | 19.01km/l | 26.08km/kg | 19.01km/l | 19.01km/l | 19.01km/l |
| Fuel Type | Petrol | Petrol | Petrol | Petrol | Petrol | Petrol | Petrol | Petrol | Petrol |
| Tank Capacity | 45 L | 45 L, CNG: 60L (Water Equivalent) | 45 L | 45 L | 45 L | 45 L, CNG: 60L (Water Equivalent) | 45 L | 45 L | 45 L |
| | | | | | | | | | |
| --- | --- | --- | --- | --- | --- | --- | --- | --- | --- |
| | LXI MT | ZXI CNG | ZXI+ AT | VXI MT | VXI AT | VXI CNG | ZXI MT | ZXI AT | ZXI+ MT |
| Power Steering Type | | | | | | | | | |
| Steering Type | Power & Tilt Steering | Power & Tilt Steering | Power & Tilt Steering | Power & Tilt Steering | Power & Tilt Steering | Power & Tilt Steering | Power & Tilt Steering | Power & Tilt Steering | Power & Tilt Steering |
| Turning Radius | 5.2 m | 5.2 m | 5.2 m | 5.2 m | 5.2 m | 5.2 m | 5.2 m | 5.2 m | 5.2 m |
| | | | | | | | | | |
| --- | --- | --- | --- | --- | --- | --- | --- | --- | --- |
| | LXI MT | ZXI CNG | ZXI+ AT | VXI MT | VXI AT | VXI CNG | ZXI MT | ZXI AT | ZXI+ MT |
| Front | Mac Pherson Strut & Coil Spring | Mac Pherson Strut & Coil Spring | Mac Pherson Strut & Coil Spring | Mac Pherson Strut & Coil Spring | Mac Pherson Strut & Coil Spring | Mac Pherson Strut & Coil Spring | Mac Pherson Strut & Coil Spring | Mac Pherson Strut & Coil Spring | Mac Pherson Strut & Coil Spring |
| Rear | Torsion Beam & Coil Spring | Torsion Beam & Coil Spring | Torsion Beam & Coil Spring | Torsion Beam & Coil Spring | Torsion Beam & Coil Spring | Torsion Beam & Coil Spring | Torsion Beam & Coil Spring | Torsion Beam & Coil Spring | Torsion Beam & Coil Spring |
| | | | | | | | | | |
| --- | --- | --- | --- | --- | --- | --- | --- | --- | --- |
| | LXI MT | ZXI CNG | ZXI+ AT | VXI MT | VXI AT | VXI CNG | ZXI MT | ZXI AT | ZXI+ MT |
| Tyre Size | 185/65 R15 | 185/65 R15 | 185/65 R15 | 185/65 R15 | 185/65 R15 | 185/65 R15 | 185/65 R15 | 185/65 R15 | 185/65 R15 |
| | | | | | | | | | |
| --- | --- | --- | --- | --- | --- | --- | --- | --- | --- |
| | LXI MT | ZXI CNG | ZXI+ AT | VXI MT | VXI AT | VXI CNG | ZXI MT | ZXI AT | ZXI+ MT |
| Gross vehicle weight | 1760 kg | 1820 kg | 1785 kg | 1760 kg | 1785 kg | 1820 kg | 1760 kg | 1785 kg | 1760 kg |
| Kerb Weight | 1150-1205 kg | 1250-1255 kg | 1150-1205 kg | 1150-1205 kg | 1150-1205 kg | 1250-1255 kg | 1150-1205 kg | 1150-1205 kg | 1150-1205 kg |
Features
| | | | | | | | | | |
| --- | --- | --- | --- | --- | --- | --- | --- | --- | --- |
| | LXI MT | ZXI CNG | ZXI+ AT | VXI MT | VXI AT | VXI CNG | ZXI MT | ZXI AT | ZXI+ MT |
| Central Locking | | | | | | | | | |
| Remote Keyless Entry | | | | | | | | | |
| Side Door Speaker | | | | | | | | | |
| Steering Mounted Audio Controls | | | | | | | | | |
| USB, Aux-in & Bluetooth Connectivity | | | | | | | | | |
| | | | | | | | | | |
| --- | --- | --- | --- | --- | --- | --- | --- | --- | --- |
| | LXI MT | ZXI CNG | ZXI+ AT | VXI MT | VXI AT | VXI CNG | ZXI MT | ZXI AT | ZXI+ MT |
| 1L Bottle Holders (All four doors + Floor console) | | | | | | | | | |
| Air Conditioner Manual | | | | | | | | | |
| Auto AC | | | | | | | | | |
| Driver Side Footrest | | | | | | | | | |
| Keyless Entry System | | | | | | | | | |
| Power Windows Auto Down Driver Side | | | | | | | | | |
| Rear Defogger | | | | | | | | | |
| | | | | | | | | | |
| --- | --- | --- | --- | --- | --- | --- | --- | --- | --- |
| | LXI MT | ZXI CNG | ZXI+ AT | VXI MT | VXI AT | VXI CNG | ZXI MT | ZXI AT | ZXI+ MT |
| 3D Origami Style LED Tail Lamps | | | | | | | | | |
| Floating Type Roof Design | | | | | | | | | |
| New Dynamic Chrome Winged Front Grille (Chrome) | | | | | | | | | |
| Projector Headlamps (Halogen) | | | | | | | | | |
| | | | | | | | | | |
| --- | --- | --- | --- | --- | --- | --- | --- | --- | --- |
| | LXI MT | ZXI CNG | ZXI+ AT | VXI MT | VXI AT | VXI CNG | ZXI MT | ZXI AT | ZXI+ MT |
| 2nd Row Seats 60:40 Split with one touch Slide and Recline | | | | | | | | | |
| 3rd Row Seats 50:50 Split with Recline function | | | | | | | | | |
| Co-Dr Vanity Mirror in Sun Visor | -- | | | | | | | | |
| Dazzle Chrome Tipped Parking Brake Lever | | | | | | | | | |
| Driver Seat Height Adjuster | | | | | | | | | |
| Flexible luggage space with Flat Fold | | | | | | | | | |
| Metallic Teak-Wooden Finish on Door Trims (Fr.) | | | | | | | | | |
| Plush Dual-Tone Seat Fabric | | | | | | | | | |
| Sculpted Dashboard with Metallic Teak-Wooden Finish | | | | | | -- | | | |
| | | | | | | | | | |
| --- | --- | --- | --- | --- | --- | --- | --- | --- | --- |
| | LXI MT | ZXI CNG | ZXI+ AT | VXI MT | VXI AT | VXI CNG | ZXI MT | ZXI AT | ZXI+ MT |
| ABS with EBD and Brake Assist | | | | | | | | | |
| Dual Front Airbags | | | | | | | | | |
| High Speed Alert System* | | | | | | | | | |
| Hill Hold Assist | | | | | | | | | |
| Reverse Parking Camera | | | | | | | | | |
| Seat Belt Reminder & Buzzer (Driver & Co-Driver Side) | | | | | | | | | |
| Security Alarm System | | | | | | | | | |
| Speed Sensitive Automatic Door Lock | | | | | | | | | |