Country's leading carmaker, Maruti Suzuki India Ltd. has surpassed a huge milestone of sending across 15 lac India-made cars to its global exports markets across the world.
These vehicles have been exported to over 100 countries including Europe, Latin America and Africa. Early this year, the company's premium hatchback Baleno, manufactured exclusively in India, became the first car to be exported from India to Japan. While it began its exports business in 1987 by shipping out cars from its manufacturing facilities in India to Europe, the business has flourished remarkably to stand at more than a 100 export markets globally in the present day..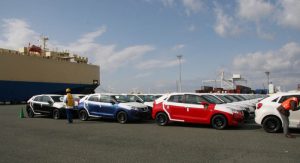 Maruti Suzuki first began its export operations in 1987, when a small number of cars were sent to Hungary. Thereafter, exports have grown at a steady pace as new models and markets were added to the export programme.
Some of the early much-in-demand export models included the Zen, the Maruti 800 and later the A-Star. The Alto, India's most popular car brand for over a decade, also has a sizeable presence in the export markets and has clocked over 390,000 sales cumulatively.