In just seven months since its launch in March, Maruti Suzuki India Ltd's (MSIL) Vitara Brezza has not only beaten its competitors in the compact sports utility vehicle (SUV) range.According to company sources, the Vitara Brezza has achieved domestic sales of 41,484 units between April and August, which is higher than closest rival followed close with 39,088 units in the said period based on the Society of Indian Automobile Manufacturers' data.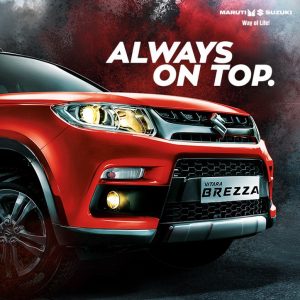 What worked for Vitara Brezza was pricing coupled with safety aspects and new features.
Vitara Brezza's balance between style, sportiness and performance has stuck the chord with the customers who have given it an overwhelming response. Brezza sets Maruti Suzuki on a strong footing in the utility vehicle space.Powered by 1.3-litre diesel engine (DDiS200), the Vitara Brezza is future ready for safety regulations and is one of the first cars in the country to be certified for offset and side impact crash tests which will be enforced in India in 2017.
According the analysts tracking the automobile industry, one of the biggest reasons for Maruti to gain sales of Vitara Brezza, is because of its vast network across the country.
Maruti Suzuki India Ltd has over 1,700 dealers across the country.